Photo Gallery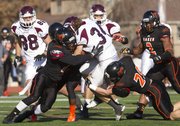 Morningside vs. Baker football (NAIA quarterfinals)
Baker University football's best season in 20 years came to an end Saturday when the No. 4 Wildcats fell to No. 5 Morningside College, 36-28, at Liston Stadium.
After holding Sterling to three points in the first round of the NAIA playoffs, Baker (11-2) had the tall task of stopping the NAIA's top-ranked offense in the quarterfinals.
Morningside was led by quarterback Ryan Kasdorf, who threw five touchdown passes and had 321 yards of total offense.
Baker quarterback Jake Morse was not to be outdone, though, as he went 34-for-44 for 417 yards and three touchdowns. The senior quarterback gave BU an early 7-0 lead when he hit Dillon Baxter for a 25-yard touchdown reception.
"(Morse) played lights-out," wide receiver Tyler Hatcher said. "He led us all day and put the ball where he needed to."
The Baker defense also came out firing by forcing a three-and-out, but a mishandled punt by Lawrence Free State product Camren Torneden gave the ball right back to Morningside.
"The punt-return muff, that was just huge momentum," Baker coach Mike Grossner said. "We had the 7-0 lead and then, whammo."
That "whammo" Grossner referred to was the first of three first-half touchdown passes from Kasdorf to Joel McCabe.
While McCabe, Kyle Schuck and Devin Thomas made life difficult on the Baker secondary, BU wide receiver Clarence Clark had a big game of his own.
Clark pulled BU even at 14 with a 42-yard touchdown catch from Morse — one of his nine receptions for 147 yards.
McCabe was not fazed, though, as he caught his second and third touchdowns of the day to give Morningside a 28-21 halftime advantage.
The third quarter looked like a completely different game, with each defense making one impact play after another.
Mike Stevenson and Tucker Pauley picked off Kasdorf, and the Baker defense looked like the one that had only allowed 17.8 points per game all season.
"The problem with the first half is that we gave up a lot of big plays," Pauley said. "We just wanted to come out (in the second half) and eliminate the big plays."
Perhaps the biggest play of the game came from the Mustangs defense. Clark caught a deep ball from Morse, but was tackled from behind and fumbled just short of the goal line. Morningside's Darius Hicks recovered the ball in the end zone for a touchback.
"(The official) said he pulled (Clark's) neck. (The defender) pulled the back of (Clark's) shoulder pads, but (the ref) said he didn't impede his progress," Grossner said. "I said, 'You have got to be kidding me.' The kid fumbled because of it."
Morningside capitalized when Kasdorf threw his fifth touchdown pass to Austin Klett to put the Mustangs up 34-21.
The Wildcats' comeback attempt was too little, too late. Hatcher hauled in a 12-yard touchdown pass with 2:10 left to pull BU within six.
Morse and the Wildcats then got a final chance after the BU defense made a stop. Morningside punter Jordan Sitzmann made it difficult, though, by pinning Baker on its own two-yard line.
Morse was sacked for safety a play later to seal the Morningside victory.
Baker finished the season with a record of 11-2.
Copyright 2018 The Lawrence Journal-World. All rights reserved. This material may not be published, broadcast, rewritten or redistributed. We strive to uphold our values for every story published.