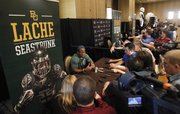 While two Big 12 Conference football teams will open the season against SEC opponents in a couple of high-profile games this weekend — No. 13 Oklahoma State faces Mississippi State at 2:30 in Houston, and No. 20 TCU plays No. 12 LSU at 8 p.m. in Dallas — the individual player with the most to gain from a good showing today will be playing in Waco, Texas.
Voted the conference's preseason offensive player of the year, Baylor running back Lache (pronounced Lake) Seastrunk will get what he hopes is a Heisman Trophy-worthy season under way at 6:30 tonight when the Bears take on Wofford in their new stadium.
Last December, Seastrunk made headlines during an interview with the Sporting News when he announced, in no uncertain terms, that he was gunning for the Heisman Trophy in 2013.
"I feel like there's no back who can do what I do," the 5-foot-10, 210-pound Seastrunk said at the time. "I know I'm the fastest back in the country. I know I'm the best back in the country. Nobody's going to work harder. I'm going to win the Heisman. I'm going to win it in 2013. If I don't, I'm going to get very close. I'm shooting for that goal. I will gladly say it."
Since then, he has done nothing to back down from that goal and actually has added to it. In late July, at Big 12 media days in Dallas, the reigning Big 12 offensive newcomer of the year was asked about his team's goals for the season, and the answer he gave was every bit as bold as the Heisman hoopla he spouted last winter.
"Big 12 championship, national championship, Heisman Trophy," he said. "It's possible. Why not?"
For starters, the Bears have never won the Big 12 or even been in the national title picture, not even when 2011 Heisman Trophy winner Robert Griffin III was playing quarterback. But Seastrunk, who ran for 1,012 yards on 131 carries during his breakthrough season a year ago, is not interested in letting Baylor's past dictate what's possible in the future.
"Why not us?" Seastrunk asked, indicating that the phrase is his personal motto. "Why can't it be us? Why do we have to take a back seat to someone else? Why can't we get the pub we deserve? There's a reason all this is happening. That's fine. We'll take that. We like being an underdog because we know we're gonna work harder than anybody else."
What's more, Seastrunk said he also was not a big fan of Baylor still being known as the place where Griffin III played.
"We're starting to get more and more people to understand that we could be in contention of doing a lot of great things," Seastrunk said. "They're starting to see that, but they don't really believe that because they're still trying to live in that RGIII era. I'm sorry. He's been gone for, like, two or three years now. Let us have our own image now."
After transferring from Oregon and sitting out the 2011 season following a red-shirt year at Oregon in 2010 — Seastrunk was headed to USC before Pete Carroll left for the NFL — Seastrunk emerged as one of the toughest backs in the Big 12 during the final six games of the 2012 season.
During that stretch he averaged 139 yards per game on the ground and also ripped off a whopping 7.6 yards-per-carry average. During Baylor's 41-14 victory against Kansas University in Waco, Seastrunk totaled 194 yards and a touchdown, with 103 yards coming on 17 carries. Asked if the KU game was the momentum builder he needed, Seastrunk flashed his confidence.
"I knew what I could do. It's just the Kansas game (that) I was raw," he recalled. "I didn't really know what was going on. I was just running. But as the game progressed, I started getting more precise with where I was going, with where the cuts were going so I started making a lot of ground out of nowhere."
That's pretty much the way it has gone ever since that game for the Temple, Texas, native. And, although his words put him on the map heading into this season, those at Baylor believe his play will be why he is remembered.
"We know Lache," Baylor coach Briles said. "Lache is a great teammate, and he believes in himself. And I learned a long time ago, if you don't believe in yourself, nobody else will. … I'd much rather have players wanting to win the Heisman than clap for the one that does."
Copyright 2018 The Lawrence Journal-World. All rights reserved. This material may not be published, broadcast, rewritten or redistributed. We strive to uphold our values for every story published.