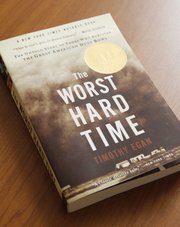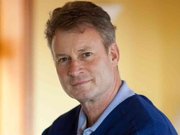 Read Across Lawrence Events
Read Across Lawrence Book Night
7 p.m. Friday, Massachusetts Street
Free copies of the book available during Final Friday
Memories of the Dust Bowl
7 to 8:30 p.m. Sept. 10, Pioneer Ridge Assisted Living, 4851 Harvard Rd.
The public is welcome at a discussion about the book that will include residents' memories of the Dust Bowl.
Nerd Nite Lawrence
7 p.m. Sept. 11, Pachamama's, 800 New Hampshire St.
Library Gallery Exhibition Opening
5:30 to 7:30 p.m. Sept. 12, Watson Library, 3 West, 1425 Jayhawk Blvd.
A display of scholarly materials and photos dealing with the Dust Bowl.
A Night with Author Timothy Egan
7:30 p.m. Sept. 26, Lied Center, 1600 Stewart Ave.
Keynote speech; book signing follows.
Film Church at Liberty Hall: "The Grapes of Wrath"
Noon (doors open at 11 a.m.) Sept. 29, Liberty Hall, 644 Massachusetts St.
Community Book Discussion
10 to 11 a.m. Sept. 30, Brandon Woods at Alvamar, 1501 Inverness Drive
The Lawrence Public Library will help members of the community get on the same page by handing out free copies of "The Worst Hard Time," by Timothy Egan, on Massachusetts Street during this week's Final Friday festivities.
The free books are a part of the kick-off event for the 11th annual Read Across Lawrence, a program designed to create a community conversation about literature by encouraging Lawrence residents to read the same book and attend library-sponsored events to discuss it.
A similar program for young readers will go on at the same time. The library will give away copies of "Turtle in Paradise," by Jennifer L. Holm, at the Read Across Lawrence for Kids Kick-off Saturday at Watson Park. Between 11:30 a.m. and 12:30 p.m. there will be live music, free food and a chance for children and parents to learn more about the program.
"The Worst Hard Time," written by a Pulitzer Prize-winning news reporter, follows the lives of ordinary people, now in their 80s and 90s, who survived the Dust Bowl and the worst years of the Depression. The 2006 winner of the National Book Award for Nonfiction is also the Common Book at Kansas University, meaning that all new students will be expected to read it. That will help bridge the gap between students and other community members, said Lawrence Public Library marketing coordinator Jeni Daley.
"It really brings the city and university together, so our hope at the Lawrence Public Library is to gather everyone, college freshmen to those who have lived through (the Dust Bowl), to really connect," Daley said.
Egan served along with retired KU historian Donald Worster as an adviser on Ken Burns' "Dust Bowl" documentary that aired last year on PBS. He has said he is looking forward to returning to Kansas, where he spent time researching the book, and meeting people with connections and family photos from a great American disaster that was almost forgotten for many years.
The library has already given away 400 books to those who completed the summer reading program, and it plans to give out about 250 on Friday. Community members can look for librarians handing out copies near Ninth and Massachusetts streets or get their "book fortune" from Lawrence Public Library Director Brad Allen, who will be dressed as a fortune teller and seated in a homemade Zoltar Fortune Teller booth.
By giving away the free books, the library is trying to ensure that no obstacles keep community members from participating in Read Across Lawrence, Daley said.
"We at the library think it's really important they do have an opportunity to get involved," Daley said.
For community members who didn't get a chance to get a free book, 20 copies will be available for checkout at the library, as well as a book club in a bag, so people can check out a bag filled with 10 books and read it with their book club.
Other Read Across Lawrence events will include a Dust Bowl and Depression themed Nerd Nite on Sept. 11 at Pachamama's as well as a presentation from Egan at the Lied Center.
The children's book, "Turtle in Paradise," tells about a child named Turtle whose mother is struggling during the Great Depression so he has to move to Florida. The kids' program is aimed at children ages 8-14. Events will include an ice cream-making demonstration, a free movie and a monthlong treasure hunt.
For more information about Read Across Lawrence and Read Across Lawrence for Kids, visit http://www.lawrence.lib.ks.us/news-events/read-across-lawrence/.
Copyright 2018 The Lawrence Journal-World. All rights reserved. This material may not be published, broadcast, rewritten or redistributed. We strive to uphold our values for every story published.