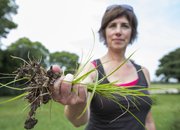 Gardening is all about trade-offs: Lack of moisture causes stress to plants, while ample moisture allows weeds to proliferate and flourish. Yellow nutsedge in particular has enjoyed this summer's rains and is flourishing in many lawns and gardens in the area.
Laurie Comstock, who gardens in southern Douglas County, says she has spent the last few weekends removing yellow nutsedge from her vegetable garden.
"I put all this mulch down, hoping I wouldn't have to do as much weeding," Comstock explains, "but it's still coming up."
Yellow nutsedge looks a little like a clump of grass, with broader leaves with a thick mid-vein. Yellow nutsedge is a paler green than most grasses. The leaves also have a waxy coating, and the stem is triangular in cross-section.
Comstock says she has weeds that are harder to control, but yellow nutsedge is "persistent and annoying."
"It pulls easy and makes you feel like you've got a handle on it, then a few days later it's back."
Yellow nutsedge's persistence is part of its growth habit. It can reproduce through underground tubers called nutlets and rhizomes as well as the seeds borne at the top of the plant. Pulling the plant breaks off the nutlets, allowing them to germinate and produce new plants.
Comstock's heavy mulch is a good approach to prevention — she also layered newspapers on the soil surface when building her vegetable garden. The tomatoes, peppers, cabbage, strawberries and other food plants grow in raised beds above the walkways where the yellow nutsedge keeps popping up.
Despite the nutlets that break off, hand-pulling is still the recommended method of management when small amounts of yellow nutsedge are present. A trowel or similar digging tool can help with removing plants in their entirety.
For larger patches of yellow nutsedge, gardeners may wish to use an herbicide. Sedges are different from other grassy weeds and from broadleaf weeds, so only specific products are effective. Currently, the most effective herbicides for yellow nutsedge control are Basagran (active ingredient bentazon) and Sedgehammer (formerly known as Manage, active ingredient halosulfuron). Read and follow all label instructions when using any herbicide or consider hiring a certified applicator. More than one application may be necessary as nutlets continue to germinate.
In lawns, yellow nutsedge reduces aesthetic quality but is easily out-competed by healthy turf. In lawn areas where yellow nutsedge is a problem, consider reducing compaction, altering mowing practices, reducing irrigation, and/or fertilizing to produce thick, healthy grass.
Comstock says despite her battles with the nutsedge, she's happy for the moisture this summer. "Weeds are just one of those ongoing challenges you have to deal with. I am learning as I go."
Copyright 2018 The Lawrence Journal-World. All rights reserved. This material may not be published, broadcast, rewritten or redistributed. We strive to uphold our values for every story published.