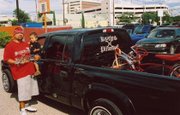 The van cruised by, its body low to the ground, its outside covered in graffiti, its wheels covered with wire spokes.
Ben Chappell, a student at the University of Texas, was entranced by the vehicle. Whoever is driving it must be seeking attention, he thought — but why?
The aspiring anthropologist decided to look more closely into lowriders, and soon discovered an entire culture built around designing and showing off the elaborately customized automobiles. Chappell's research culminated in the 2012 release of his book "Lowrider Space: Aesthetics and Politics of Mexican-American Custom Cars."
Chappell, now a professor of American studies at Kansas University, grew attracted to the communal aspect of the lowrider phenomenon: how it's passed on from generation to generation; how entire social circles are formed around it; how it's more than just a quirky pop-culture phenomenon. "This is not a fad," he asserted. "This is a lifestyle."
For his research, he immersed himself in the lowrider culture, spending time with a Texas car club. From when enthusiasts got off work at night, they tended to their vehicles seemingly nonstop. Fellow riders became like blood relatives — if another driver got injured in an accident, they would hold a fundraiser for him. They even formed their own economy, bartering for parts or cars; one enthusiast told Chappell that of his five vehicles he only paid for the first.
Chappell said the media portrayal's of lowrider culture perpetuates the stereotypes that it only involves youths and criminals. While he says neither is true, he admits lowrider drivers do have a tense relationship with the police. Law enforcement often profiles them as criminals, partly because they tend to gather late at night, in public parking lots.
Lowriders have their origins in custom cars' "golden age" of the mid-20th century, Chappell says. Awareness of them mushroomed with the publication of Lowrider Magazine in the 1970s; they were further popularized a decade or so later with the onset of MTV and the release of the film "Boyz n the Hood." "It comes and goes," Chappell said of the lowrider culture. "Some say the mid-'90s were the golden age. When when I was doing my research, they said it was the early-'80s."
Perhaps lowriders' most famous feature — the hydraulic systems that cause the cars to hop — started as a way to circumvent California ordinances on how low to the ground cars could be, Chappell said; some say the technology is derived from airplane landing gear. Many lowrider enthusiasts take part in competitions to see who can make their vehicles bounce the highest.
Other signature modifications that make a lowrider, well, a lowrider are elaborate paint jobs, including murals; custom interiors with features such as chandeliers or velvet upholstery; and super-loud stereo systems.
Lowrider fandom has generally been most rabid in the southwestern United States, particularly California, Texas and New Mexico, though there are international pockets of interest in countries such as Japan. Chappell said that while Lawrence has a quiet lowrider scene — he has only seen a few in the six years he's been here — Topeka and Kansas City, Mo., have livelier ones.
The professor says the lowrider phenomenon is partly a result of socioeconomics. "A lot of these people can't afford a mansion," he said, "but they can make a really nice car."
Chappell theorizes that lowrider culture also emanated from years of white repression of Mexicans, particularly in Texas. They were kicked out, pushed underground, forced to run and hide. Now that that is no longer the case, lowriders may be a way for them to make their presence known, to stand out and say, in essence, "We're here — and we're not leaving."
Copyright 2018 The Lawrence Journal-World. All rights reserved. This material may not be published, broadcast, rewritten or redistributed. We strive to uphold our values for every story published.