Photo Gallery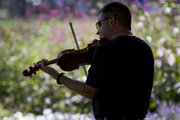 Kansas State Fiddling and Picking Championships
Musicians gathered to compete in several competitions at the 33rd Kansas State Fiddling and Picking Championships in South Park Sunday, August 25, 2013.
Contest results
Miscellaneous instruments:
1) Dave Hooge, Lawrence
2) Steve Luper, Andover
Folk ensemble:
1) Jim Brothers MSB, Lawrence
2) Terri & Michael, Overland Park
Youth fiddling:
1) Glenn Sigler, Joplin, Mo.
2) Edith Sigler, Joplin, Mo.
3) Bethany Marcolesco, Andale
Open fiddle:
1) John Shaw, Lincoln, Neb.
2) Jason Shaw, Lincoln, Neb.
3) Tricia Spencer, Lawrence
Banjo:
1) Matthew Oliphant, Chanute
Flatpicking guitar:
1) Matthew Oliphant, Chanute
2) John Shaw, Lincoln, Neb.
3) Dan Delancy, Kansas City, Mo.
Mandolin:
1) Mike Black, Lawrence
2) Bill Allen, Topeka
Fingerpicking guitar:
1) John Gamache, Wichita
2) Luke Paul, Lawrence
Youth Award:
1) Mason Ruble, Minneapolis, Kan.
A stream of people walked along the sidewalks in South Park on Sunday afternoon, donning hats and sunglasses and carrying lawn chairs and coolers. Kids played in the fountain west of the gazebo, and adults found some relief in plastic cups full of cold beer.
Wherever spectators found themselves — under a distant tree, next to the food trucks and vendors, or right in the center of it all — they could clearly hear the traditional Americana music wafting from either of two makeshift stages in the park.
South Park was the site of the 33rd annual Kansas State Fiddling and Picking Championships on Sunday. Musicians in each of the eight categories — miscellaneous instruments, folk ensemble, youth fiddling, open fiddle, banjo, flatpicking guitar, mandolin and fingerpicking guitar — were judged on rhythm, timing, execution, creativity and expression.
While musicians played on stage, spectators spontaneously got together to jam away from the stage, and clapped and sang along to familiar tunes.
"My favorite aspect is the continuum of the event," said Gayle Sigurdson, coordinator of the competition. "I see people there just jamming and a few years later they put together a band and compete. There's that continuum, that sense of community."
Cara and Matt Oliphant, a brother and sister duo from Chanute, rehearsed in the southwest corner of the park before their turn on stage.
They had just finished a six-minute performance in the folk ensemble category and were seventh in line to compete in flatpicking guitar, in which contestants played two fiddle tunes on guitar using a flat pick.
Cara and Matt, now 21 and 17 respectively, started playing music together when Matt was 5. They returned to the contest this year after a four-year break while Cara was away at college.
In addition to participating in the folk ensemble and flatpicking guitar categories, Cara competed in open fiddle and Matt in banjo.
"It was just something our parents did and passed on to us," Cara said. "Since we're family, we'll probably always play together."
Lawrence residents Michael Paull and Terri Laddusaw also were returning to the competition after a brief hiatus. They were the first to perform in the folk ensemble category, with Paull on guitar and singing backup and Laddusaw singing lead.
They played two songs in their six-minute set, "Sweetest Waste of Time" by Kasey Chambers and an original song written by Paull.

"We're a mix of Americana, country, bluegrass and folk," Laddusaw said. "Michael likes to call it 'parlor country.'"
The duo met 11 years ago during a jam session at the Americana Music Academy, 1419 Massachusetts St., and they decided to start playing together because of their good vocal blend.
Paull and Laddusaw won the folk ensemble category at the Kansas State Fiddling and Picking Championships in 2003 and 2005 before Laddusaw moved to Texas. She moved back to Lawrence recently, and the two reconnected to play in the contest 10 years after the first time they won it.
"We're suckers for anniversaries," Paull said. "We're sentimental that way."
Copyright 2018 The Lawrence Journal-World. All rights reserved. This material may not be published, broadcast, rewritten or redistributed. We strive to uphold our values for every story published.