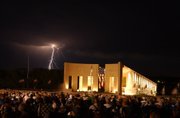 Former U.S. Sen. Bob Dole's vision for the Dole Institute of Politics at Kansas University is as clear now as it was 10 years ago when the facility opened, according to Bill Lacy, the institute's director.
As it was in 2003, the institute's mission is the promotion of political and civic participation and civil discourse, which Lacy said is in short supply in today's political climate.
Dole represented Kansas in the Senate from 1969 to 1996, and was the Republican Party candidate for president in 1996. He was defeated by Democrat Bill Clinton.
There is no doubt that Dole was a partisan politician, Lacy said, but unlike many of today's politicians, Dole did not let partisanship stand in the way of trying to reach compromise on many important issues.
As the institute starts its second decade of programming, Lacy said he hopes the next generation of politicians will emulate Dole.
"We have built up a really strong student culture here. If you sit and talk to our students, the thing that will be clear is that most of them have strongly held viewpoints, but they respect the other side and feel it's important to try to find common ground," he said.
The Dole Institute features the story of Dole's life as part of "The Greatest Generation," of World War II veterans — Dole was severely injured in the war — as well as a wide variety of afternoon and evening programs that provide opportunities for students and members of the public to meet and hear from prominent people in the political arena. And the institute houses all of Dole's congressional papers, making it a research gold mine as home to one of the largest congressional leadership collections in the nation.
Although Kansas wasn't a battleground state in last year's presidential campaign, Dole Institute programming provided Kansans with knowledgeable insight into the election and national trends.
Dole Institute Fellows led weekly study groups in the run-up to the election, the institute hosted debate watches and top officials from both campaigns provided a post-election analysis. Former U.S. House Speaker Newt Gingrich led an event after the election, too.
Approximately 10,000 people attend programs at the institute each year, although that number can spike depending on the speakers who appear. When Clinton spoke at the first Dole Lecture, more than 10,000 people packed Allen Fieldhouse.
Most of Dole's papers, representing 35 years of public service, are open for viewing, and researchers from around the world have visited the institute to study a wide variety of subjects to see what Congress did or didn't do over the last half of the last century, Lacy said.
Lacy said the major challenge for the Dole Institute, which has an annual budget of about $1.4 million, is raising money. Invited speakers receive expenses and "rock star treatment," but no honoraria, Lacy said. The institute's funding comes from the university, income from the current endowment, which stands around $8 million, and fundraising. Lacy said he would like to get the endowment up to $20 million.
Even though Dole, who lives in Washington, D.C., is not involved in the day-to-day operation of the institute, Lacy said he still helps raise funds and is active in selecting the annual $25,000 Dole Leadership prize, which goes to an individual or group whose public service inspires others.
While the opening of the Dole Institute in 2003 was a huge affair, which featured Dole, former President Jimmy Carter and others, Lacy envisions more low-key events over the course of the 10th anniversary year, which coincides with Dole's 90th birthday.
The institute already has staged an in-depth look at the Battle of Gettysburg, marking its 150th anniversary.
Meanwhile, the legacy of Dole and his generation of politicians continues to be written.
"One of the misconceptions people have about Dole is that he wasn't partisan, that he was a moderate. That's not true," Lacy said. "He was very partisan at times, he was a very strong conservative Republican. But he didn't let that get in the way of trying to build relationships and bridging the gap, to find common ground."
Copyright 2018 The Lawrence Journal-World. All rights reserved. This material may not be published, broadcast, rewritten or redistributed. We strive to uphold our values for every story published.