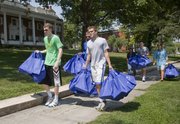 Now in its second year, the Good Neighbor program has had a good start, student organizers and Oread Neighborhood residents say. But they are also thinking about how to build on it to do more.
As they did last year, volunteers swarmed the Oread Neighborhood Friday, talking with residents and handing out packets of information about city codes and services. Led by a committee of Kansas University student government representatives, city officials, police and residents, the group brought a short, simple message to many students who had just moved in: Be a good neighbor.
The other part of the message, for longtime residents and homeowners: School is back in session, so say hello to your new neighbors.

The Good Neighbor initiative was started last year by city government leaders and KU officials to combat persistent problems of noise and litter that have annoyed many residents, and to generally encourage more neighborly behavior.
This year, too, they handed out fliers on city housing codes and student legal services, but students from fraternities and the KU Student Senate took a more active role in leading the effort.
And as they attended meetings with officials and homeowners, the student leaders started to think beyond those immediate concerns, said Pantaleon Florez, who represents graduate students on the KU Student Senate and has lived in the Oread Neighborhood for about a year.
If the goal is good neighbors, he said, it should be more like a real neighborhood: The people who live there should know each other.
'Students are bad'
"We're hoping to see some attitudes change," Florez said. "In the past, you've heard a lot of 'Students are bad,' or, on the other side, 'Owner-residents are mean old people.' We want to erase that."
To do so will take more than a goodie-bag distribution once a year, said Marcus Tetwiler, the KU student body president and another Oread Neighborhood resident. The Good Neighbor group is also working on some other ideas that, while still in development, might lend the effort more sustainability.
Some of those ideas include matching students and permanent residents in a type of mentoring program and an online community message board where people in the neighborhood could post community service information and plan events. The group would also like to write some grant proposals for funding to improve neighborhood sidewalks and lighting.
For now, the university is hosting a Good Neighbor website, with information about landlord and tenant issues and money management.
Not all of the problems, Tetwiler said, are coming from students. The neighborhood also houses many other younger people who are just as likely to toss beer cans and play loud music. But the best chance for organizing the younger residents who live there may be through the students.
"We definitely want to be part of the solution, working with community leaders who have been there a long time," Tetwiler said.
Making it friendly - both ways
There is more work to do to: the students said they didn't personally know many longtime residents in their neighborhood. And the opposite was true: homeowner Candice Davis, co-chairwoman of the Oread Residents Association, said she didn't know many of her student neighbors.
Davis, who has worked with the Good Neighbor group, said her main issue with the neighborhood is litter, and she's made her own suggestions for future activities. Tired up picking up trash around her home three times a week, she has suggested a wider effort among students to help clean up the area.
But after living in the neighborhood for 15 years, Davis has had a wide experience of issues with the younger residents, and was able to offer the group insight into other areas, too. Part of the reason, she said, that police are called so often about loud parties was that the people involved didn't know each other, and residents didn't feel comfortable approaching a party of strangers.
"Truth be told, I should go over and introduce myself at the beginning of the year," Davis said. "We're trying to make it more friendly — both ways."
Most considered the effort so far a first step. It was inspired by a more developed program in Colorado, a joint effort between the city of Fort Collins and Colorado State University that has grown over the past decade into a permanent office that splits time between the campus and the city.
Friday, the volunteers focused on getting as much face-time with residents as possible, distributing reusable grocery bags with fliers for city pet and rental ordinances, and a joint letter from Lawrence Mayor Michael Dever and KU Chancellor Bernadette Gray-Little.
Among the Good Neighbor swag was a form letter, a suggested note for neighbors to alert them about an upcoming party.
"Hi. We want to let you know we're having a party soon," it reads in part. Below, it suggests providing a name, address, and cell phone number, asking the neighbor to call, text, or knock on the door if there is a problem.
It does not suggest extending an actual invitation to the party, but perhaps that could come later if neighbors get to know each other.
Copyright 2018 The Lawrence Journal-World. All rights reserved. This material may not be published, broadcast, rewritten or redistributed. We strive to uphold our values for every story published.