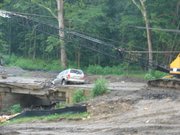 The driver of a disabled vehicle discovered earlier this month at a bridge construction site on U.S. 56 Highway west of Baldwin City has been cited for leaving the scene of an accident, according to the Douglas County Sheriff's Office.
The grey Dodge Durango was found unoccupied at the site about 9:15 a.m. on Aug. 4, and sheriff's deputies determined that Alexander Alsup, 19, of North 300 Road, had been driving the vehicle when it became stuck in the construction zone.
The section of the highway from Sixth Street in Baldwin City to East 1400 Road is closed to traffic for a Kansas Department of Transportation project to replace three bridges. The van was found at the eastbound approach to the middle bridge.
Alsup had apparently been driving the vehicle, which belonged to his father, eastbound when he drove around the barricades and tried to use the closed bridge, said Lt. Steve Lewis, a sheriff's office spokesman.
When the vehicle became stuck, Alsup left the scene. A deputy later found Alsup attempting to move the vehicle, and cited him for leaving the scene of an accident and failing to report an accident.
Copyright 2018 The Lawrence Journal-World. All rights reserved. This material may not be published, broadcast, rewritten or redistributed. We strive to uphold our values for every story published.