If you go
Schedule for the this weekend's sixth annual Lawrence Busker Festival throughout downtown Lawrence. A more detailed schedule for specific performances can be found on the Busker Festival's website:
Today
Busker Ball, 7 p.m., The Granada, $5-$8. Tickets available at the Granada box office.
Friday
6 p.m. to 11 p.m.
Saturday
2 p.m. to 11 p.m.
Sunday
Noon to 6 p.m.
On any given day, downtown Lawrence is dotted with street performers — a saxophone player performs on Massachusetts Street most afternoons and acts like mimes and guitarists can be found on a corner with a hat or jar asking for a tip. It isn't often that you'll also come across a strongwoman, a fire eater, pogo acrobats and a stilt walker.
This weekend, downtown Lawrence will host the sixth annual Lawrence Busker Fest, and acts from all over the nation will perform today through Sunday as part of the event.
"Lawrence has cultivated this image of being different and progressive, and in a lot of ways the image of a street performer is that as well," said Richard Renner, festival coordinator.
On Friday, Saturday and Sunday, more than 20 scheduled acts will perform on stages and sidewalks along Seventh, Eighth and Massachusetts streets, and other buskers will be on the streets in the downtown area doing impromptu shows.
All of the acts are free to attend, but guests are encouraged to tip the performers. Renner said the typical tip is anywhere from $1-$10.
For those who don't have time to take in all the acts they're interested, they can attend the Busker Ball at 7 p.m. today at the Granada, 1020 Massachusetts St. The ball features a lineup of performances by the festival's buskers. Afterward, there will be a meet and greet where guests can mingle with the performers and purchase food or drinks. Tickets for the ball are $8 for adults and $5 for children.
Before this weekend's buskering gets underway, here are the stories of some of the performers.
Rod Sipe, fire-eater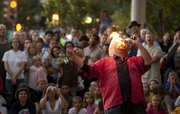 Fire-eater Rod Sipe grew up living in what was a former circus winter quarters. The history of the house grabbed his interest from the time he was young, and he began learning about circuses and, particularly, the sideshows. He learned firsthand from other fire-eaters and entertainers by observing and trial and error.
The danger of the task didn't daunt him.
"I was gonna do it at all costs," Sipes said. "It's mind over matter; if you don't mind being burned, it doesn't matter."
It took him five years to develop his entire act, and he's been doing it for more than 35 years.
Sipe performs at Renaissance festivals and has busked at countries all over the world.
Audience members at Busker Fest should expect a 25-30 minute fire show with his partner, J.C. the pain-proof girl, who walks on glass. He said hopefully there will be no disappearing acts.
"I'm used to getting singed and losing my eyebrows, but one of my least-favorite tricks is the vanishing mustache trick," he said.
Terry Davolt, "T. Texas Terry"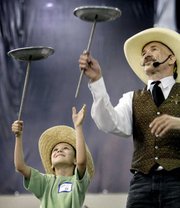 Terry Davolt is a comedy cowboy, boasting a show with trick rope-spinning, whip-cracking, gun twirling and laughter — but he always likes to make one thing clear:
"I'm not a comedian; I do a show with lots of comedy in it," Davolt said.
Davolt loves to make people laugh. He was voted class clown in high school, and his sense of humor is what helped him find his career as "T. Texas Terry."
After graduating high school, he did a four-year sheet metal apprenticeship and then applied to the Wringling Brothers and Barnum and Bailey Clown College. From a class of 44 people who graduated from the school in 1983, Davolt was one of 14 who was offered a contract with the circus. He traveled and performed as a clown, developing what is his current cowboy act. In 1986 he left the circus to help his family. After that, he held jobs with Disneyland and as an opening act for county music duo Brooks and Dunn.
Davolt promises audiences that he's not a typical cowboy.
"They'll see some cowboy skills they won't see at rodeos," he said.
Brian Wendling, comedy juggler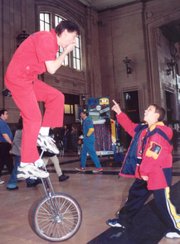 Brian Wendling was attending school at the University of Minnesota when he saw a juggler and wanted to learn the trade. He went home and began practicing with Wiffle and tennis balls and developed his skills. Thirty-seven years later, Wendling continues to juggle and perform other tricks, like riding a unicycle, standing on a rolling globe ball and performing a bull-whip routine.
Wendling often performs at fairs and schools, and has once performed with the symphony and a dance group. Although busking isn't his usual performance setting, he said many of the same elements are there.
"You have to build an audience, there are hecklers, noise, heat, weather and you're trying to get people to focus on you," Wendling said.
Wendling's key to building a crowd is getting them involved. He said audience members can expect to participate in his act this weekend.
Sarah Glass, "Miss Conception"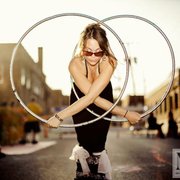 As a Kansas University student, Glass was enrolled in creative writing and poetry classes. She worked at the Jazzhaus, and after watching someone perform a piece of slam poetry at open mic night, decided to give it a try. She performed a piece called "My Main Misconception," and her stage name, Miss Conception was born.
Since graduating in 2008, Glass started a performing troupe called the Vibe Tribe. She can DJ and rap as well as perform a variety of tricks including hula-hoop dancing. She's performed at many events in the Kansas City area, including Kanrocksas in 2011.
This weekend, Glass will DJ and perform alongside six stilt walkers and fire-eaters.
"As an artist it's about creating sacred space and inspiring people to create other art," Glass said. "My goal is to inspire people to be a part of the show."
Copyright 2018 The Lawrence Journal-World. All rights reserved. This material may not be published, broadcast, rewritten or redistributed. We strive to uphold our values for every story published.