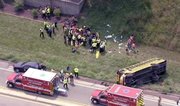 Bonner Springs police are on the scene investigating a school bus accident on southbound Kansas Highway 7 that has injured at least five to six people, including the bus driver.
Lt. Rick Schubert, reporting from the scene, said the accident occurred about 12:45 p.m. on the exit ramp for Kansas Highway 32. Two buses full of sixth graders from Pembroke Hill Academy were traveling on the highway, one with female students and one with males. He said the bus with about 30 female students was in the accident, rolling on its side. The driver had to be extricated, and Schubert estimated about five other students were injured.
Jason Sheahan, an employee of Reddi Services in the Bonner Springs Industrial Park, arrived on the scene with a co-worker, Joe Rhoney, before police arrived.
He said Rhoney noticed the accident as they headed westbound on K-32 after grabbing lunch.
"He saw the door of the bus pop open. We parked the car at Wagners, and kids started pouring out of the bus," Sheahan said. "... When I saw the kids' feet hanging out the windows, my first thought was that there would be kids pinned under the bus."
Sheahan said that, thankfully, no children were under the bus. Rhoney climbed into the bus through the back door and was helping students who were caught on the seats inside the bus, while Sheahan helped them exit the bus. He said a few students were hurt.
"A girl had hurt her knee — she had just had surgery on it — and someone was bleeding, we couldn't find who it was," he said. "There was probably several concussions and a lot of head traumas, and there was some kids who had some bloody noses, but most of the kids were OK."
Sheahan and Rhoney then tried to round up the students away from the bus to keep them in a group and calm them down.
"They were all screaming, 'What happened?' and 'I want my mom,'" Sheahan said.
Sheahan and Rhoney stayed on the scene for about 45 minutes helping the students. Sheahan said another passerby, a nurse, also stopped to help check injuries.
Sheahan said the bus was headed to a camp in Linwood when the accident occurred.
KCTV5 News is reporting that parents of children on the bus should go to Bonner Springs High School, 100 N. McDanield St., to pick up their uninjured children.
Watch for more on this story as information becomes available.
Copyright 2018 The Lawrence Journal-World. All rights reserved. This material may not be published, broadcast, rewritten or redistributed. We strive to uphold our values for every story published.