Photo Gallery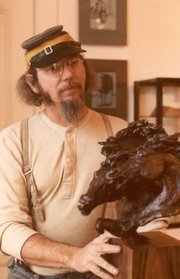 Lawrence sculptor Jim Brothers
Jim Brothers, a local sculptor known throughout the world for his contributions to national war memorials and his depictions of American historic figures, died Tuesday after a long battle with cancer. He was 72.
Jim Brothers, a local sculptor known throughout the world for his contributions to national war memorials and his depictions of American historic figures, died today after a long battle with cancer. He was 72.
Brothers designed several pieces in the National D-Day Memorial, which was dedicated in Bedford, Va., in 2001. He also contributed to the Korean War Memorial on the National Mall in Washington, D.C., and he created the statue of Gen. Dwight Eisenhower that stands in Statuary Hall in the U.S. Capitol.
His works can also be seen in numerous city parks and landscapes in and around Kansas, including "Protector of the Plains" in Eudora, commemorating Paschal Fish and his daughter, the city's namesake, Eudora Fish; "Endangered Species: the American Farmer" in El Dorado; and a sculpture of golfer Tom Watson, which stands outside Children's Mercy Hospital in Kansas City, Mo.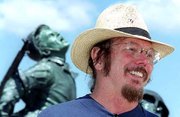 "He chose early on a career path that didn't follow the fashion of the time because what he wanted to was model a figure," said John Hachmeister, a longtime friend who teaches sculpture at Kansas University. "That's what always interested him. The other thing that interested him was the kind of art that encompasses or summarizes a moment – a moment in history. That falls in and out of fashion. He certainly, for quite a number of years, was not trendy. But he continued to follow his passions, his interests. He is an absolutely exceptional sculptor."
In addition to his artistic work, Brothers was an unforgettable local personality in Lawrence – an avid Civil War buff and re-enactor, and a bluegrass musician who played washboard in the Alferd Packer Memorial String Band which was known for, among other things, giving free performances at the Lawrence Post Office each year on April 15 as procrastinators came in to mail their tax returns.
"I would say he was the ultimate character," said Rick Renfro, owner of Johnnie's Tavern in North Lawrence, Brothers' favorite hang-out in town. "You know how people say, 'That guy is a real character?' Jim really was a character. Money never meant a hell of a lot to him. They (the band) would play here for beer and food, just to have a good time."
Early life in the Flint Hills
Brothers was born Aug. 15, 1941, in Eureka, Kan., then a bustling town of about 4,000 people in Greenwood County that thrived on the oil industry and cattle ranching.
Pam Cowley, a high school classmate who still lives near Eureka, remembered him as an "extremely ornery" young man who showed a keen interest in art early on, even though their high school did not have an art teacher at that time.
"Jim was his own person," she said. "He spent a lot of his time drawing. I took several classes with him. He liked to draw and he was very good at it."
Cowley now serves on the board of the Greenwood County Preservation Society, a civic group trying to restore the historic Greenwood Hotel in downtown Eureka that was the hub of business and social activity.
There, she said, Brothers first met Ward McGinnis, a wealthy oil tycoon and cattleman, who used to hand out quarters to children in town so they could go see the Saturday afternoon matinee at the local theater.
She said Brothers worked at the hotel as a shoe-shine boy, and later got a job working on McGinnis' ranch. Some friends speculated it may have been McGinnis who helped pay for Brothers to go to college at Phillips University in Enid, Okla., where he graduated with a bachelor of fine arts degree in 1963.
As part of the hotel restoration project, Cowley said, the preservation group commissioned Brothers to make a sculpture, which he called "the Cowboy," depicting a man carrying a saddle, with his young son straddling behind riding a stick horse.
Brothers finished the prototype of the sculpture, but Cowley said the organization ran out of money before it could be completed. It remains one of Brothers' few unfinished works.
A figurative artist in an abstract town
Brothers moved to Lawrence in the mid-1960s to continue his art studies at KU, but soon found his passion, and ultimately success, as a working studio artist.
It is undeniable, though, that Brothers, who specialized in depicting real-life figures, was more widely known – and much more readily accepted – outside of Lawrence than in his hometown, where virtually all public sculptures are abstract designs.
The one notable Brothers piece in public view in Lawrence is "From the Ashes," a highly symbolic piece depicting a man morphing into a phoenix bird as it rises from the flames of a burning building. It is meant to symbolize Lawrence's rise from the ashes after Quantrill's Raid during the Civil War, and stands as the centerpiece of the Douglas County Memorial of Honor at the city's Visitors Center in North Lawrence.
Even that piece, though, was controversial when it was proposed in 1999, and it met with opposition from the Lawrence Arts Commission, which is traditionally dominated by abstract art aficionados.
Hachmeister, the KU sculpture professor who also works as a studio artist himself, said that's not unusual in a university town like Lawrence, where university faculty are expected to be active participants in the local arts community.
"The thing about the university is, it's a research university," he said. "There's a push for work that's a little more on the edge. It's engaging very much what's considered a contemporary visual conversation. That's something that, for Jim, I don't think it ever really interested him. I really don't."
But while Brothers may never have been considered "trendy," or avant garde in the arts community, Hachmeister said he was an innovator in many ways, capable of great subtlety and nuance, as well as breaking new ground in his field.
"For instance, he's one of the very few, and maybe the only person who, in a national monument, has depicted a dead man, rather than men always in heroic stances," Hachmeister said. "In the case of the D-Day Memorial in (Virginia), there's a 19-year-old dead young man, a casualty. … It's not heroic. However, he was able to slip that into what is considered a glorification, in some ways, of American might. So there are some subtle things that go on in his art."
Lori Norwood, another local sculptor who described Brothers as both a mentor and close friend, was working with other artists to help complete Brothers' last piece during the final days before he died.
"I've got a couple of figures in the same commission," Norwood said. "But he was unable to get up, so another sculptor and I were helping him to finish that. But he's such a pro, he's never missed a deadline. He's just very professional about his work. A crazy guy otherwise, but very professional about his work. He just couldn't rest, even though he was literally on his death bed, he couldn't rest until this commitment is fulfilled."
The piece is a memorial to playwright William Inge, scheduled for installation in Inge's hometown of Independence, Kan., early next year.
Survivors include his wife, Kathleen Correll.
Funeral services are pending at Warren McElwain Mortuary in Lawrence. Condolences may be left at the funeral home's website.
Copyright 2018 The Lawrence Journal-World. All rights reserved. This material may not be published, broadcast, rewritten or redistributed. We strive to uphold our values for every story published.