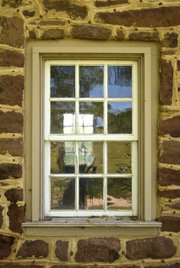 If you live in an older home with double-hung windows, chances are pretty good that one or more of the windows no longer remains open on its own.
The proper way to fix this problem is to re-hang the lead weights found inside the window casing. This project, though relatively simple, involves removing the window jamb and the wooden trim pieces around the window. If the windows have been painted, this can be an arduous project to say the least.
Although nothing beats a properly fixed window, cutting a dowel rod to fit vertically in the window track works great in a pinch. Installing a set of inexpensive stainless steel window controls is an even better solution.
Step 1: Purchase one or more packages of Stainless Steel Window Controls. These age-old little beauties are made by Stanley/National Manufacturing, as well as a few other small companies. The controls are 1-1/4" wide and 6-inch-long pieces of thin stainless spring steel. They come two to a package, but usually exclude the necessary screws to mount them. Use one or two window controls per sash, depending on how heavy the window is.
Step 2: Open the bottom sash of the window completely. If the window will not stay open on its own — which it probably won't — prop the window open with a dowel rod or have someone hold the window up while you complete the repair.
Step 3: Position one of the stainless steel controls vertically on the window channel so that the top of the control is touching the bottom of the lower sash.
Step 4: Use a pencil or felt marker to mark the position of the screw holes found on the center portion of the window control.
Step 5: Use an 1/8" or smaller bit to drill two pilot holes into the window channel.
Step 6: Re-position the window control and screw it into place using two No. 6 or No. 8 wood screws that are less than 1" in length.
Step 7: Test the window to see if one control supplies enough tension to keep it open. If not, install a second window control on the opposite side of the window.
Installed properly, these simple pieces of stainless steel metal will keep the window open when you want it open and closed when you want it closed, without the hassle of replacing the counterweights.
Copyright 2018 The Lawrence Journal-World. All rights reserved. This material may not be published, broadcast, rewritten or redistributed. We strive to uphold our values for every story published.