Free State High football coach Bob Lisher had some decent reasons to hold his players to high standards Monday, the first day of preseason practices for fall sports teams in Kansas.
Photo Gallery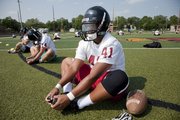 First day of fall sports practices
"The way it is now where you can work with them (almost) all summer, you expect to see a lot less assignment breakdowns than you would if you hadn't," Lisher said. "And we want to see intensity at a high level."
Those expectations within the program extend far outside the FSHS locker room, too. Considered once again to be one of the deeper and more talented teams in the state after losing in the playoff semifinals last year, the Firebirds enter the 2013 season as the No. 4 team in Class 6A, according to Kpreps.com's rankings — behind No. 1 Derby, defending state champion No. 2 Shawnee Mission West and 2012 state runner-up No. 3 Hutchinson, and ahead of No. 5 Gardner-Edgerton.
If Free State looks anything less than sharp, Lisher won't be happy.
"In order for us to be the type of team I think we can be," he said, "that's what we've got to have every day."
Lawrence High's football team won't have nearly as much hype surrounding it this season, due to the graduation of last year's strong senior class, but coach Dirk Wedd thinks the first day of practice had its share of admirable signs.
"They came out with a great attitude, a lot of energy and a lot of enthusiasm," Wedd said. "The great thing is they went through a very successful year last year (8-3, with a first-round playoff win), so they have a lot of confidence and they know how to win. Last year's seniors did a good job of teaching them that."
The carryover, the coach added, shows up most in senior leaders Kieran Severa, Drew Green and Kyle Wittman.
"All three of them are very enthusiastic, very positive. That'll help us, because we're gonna be pretty inexperienced early on with only five kids that started last year."
Cross country
Every year when the first day of practice rolls around, FSHS cross country coach Steve Heffernan looks forward to finding out how many runners showed up. This year, the Firebirds had a record 70.
"It's the biggest first day we've ever had," he said, "and we'll pick up kids over the next two weeks."
A few years ago, Free State saw a jump in participation to roughly 60 boys and girls runners, combined — even before freshmen were added to the mix.
"We've always tried to promote that everybody does count, everybody gets something out of it," the team's longtime coach said.
Lawrence cross country coach Brian Anderson dealt with about 60 total runners Monday.
He said he never expects to find out too much about the runners' abilities on the first day. There usually is something else he is looking for.
"Do they have all their paperwork in? That's the main thing," Anderson said. "Without their paperwork, they can't do anything. Until they get that all in, they don't exist."
For those eligible to do so, LHS practice officially began with a four- to eight-mile run.
Girls golf
On his first day with his new team, first-year Free State girls golf coach Layne Meyer couldn't wait to get out to Eagle Bend Golf Course and spend some time evaluating the Firebirds' games.
The players got in between seven to nine holes, on what Meyer deemed a great day, because he was able to see them play different shots and use a variety of clubs in numerous situations.
"I think the girls were excited to get back out there and play," the coach said.
Entering her second year as Lawrence's coach, Kristen Samp met with the Lions at Eagle Bend briefly before getting to work.
With a couple of weeks to go before their first tournament, Samp preferred the Lions work on a specific facet of the game Monday.
"The thing I wanted to do was the same as last year," she said. "My philosophy is at this point I can't give them new golf swings. But they will be the best short-putting team in the area."
Gymnastics
Practice, new Free State and Lawrence gymnastics coach Brooke Kissinger said Monday, will have to wait a day.
The Lions and Firebirds instead used their first day of team activities to get organized, and meet their first-year coach.
"Getting to know the girls is a huge thing. It's easier to coach them when you understand who they are," Kissinger said.
While the coach and the gymnasts dealt with nuts and bolts, they also shared their background in the sport.
"I have to learn all those kinds of things," the new coach said.
Boys soccer
As close to 80 players participated in drills at Free State's first day of boys soccer tryouts, coach Kelly Barah wanted to learn as much as he could about all of them.
"With the testing part of it, it's super-important, because you see (notice) the people who did do a lot of stuff in the offseason," Barah said. "We really start seeing who has the will and that kind of stuff."
Before cuts come at the end of Wednesday's tryouts, the coach will be on the lookout for not just agility and speed, but also ball skills.
"We want them on the field," Barah said, "to be as comfortable as they can be."
In spurts, Lawrence's soccer tryouts had intense moments, but coach Mike Murphy prefers the crisp pace of practices.
"Usually, it's bam, bam, bam, and we're getting our work in," he said Monday. "This, because there's so much time in between stations … there's so many kids that you're trying to evaluate one-on-one, there's a lot more standing than you want in some drills."
Still, Murphy knew one-on-one drills allowed him to fairly critique the program's potential players.
"You can find out: Can this guy defend? Can this guy play offense?"
Girls tennis
Free State's girls tennis players had new courts waiting for them on the first day of practice. Coach Oather Strawderman said the lines got painted Monday and dried in time for the Firebirds to be the first people to use the freshly ready facility.
"They are definitely a big deal," the coach said. "They're going to allow us to have more girls out here and more space to have more productive practices."
There are six courts now at FSHS, instead of five, and Strawderman said with the new versions the players don't have to worry about the court sweating or having too many puddles, cracks or dead spots.
The coach hopes the players will pick up some useful abilities on the new courts: "Tennis is a lifetime sport and I try to get the girls, no matter how good they are, at least some amount of tennis skills by the end of the year, so they've got something they can play for the rest of their lives."
Lawrence tennis coach Chris Marshall had a couple of non-tennis concerns for the team's first day of practice.
"The main goal is to make sure we have all the names down correctly so I'm calling all the girls by their proper names," he said with a grin.
Of course, the matter of forms and uniform sign-up sheets had to be addressed, too, before they got to some real tennis, with some hitting to end the day.
"The rest of the week is finding out who worked hard over the summer and where we are at," Marshall said. "We've got 22 practices (the rest of the season) to get to the best that we can be. It is a very short and quick season."
Volleyball
On the first day of Free State volleyball tryouts, coach Nancy Hopkins sought out one characteristic in particular: desire.
"I'm looking for the kids who put out that extra little something that shows me they really want to be here," she said. "Skill-wise, I can pick out the top 20 right now. It's just kind of a matter of who belongs together on what team and how they're gonna jell together and all that."
Hopkins said each player's attitude shows up in how they work with teammates and coaches.
"I can have a really good player with a bad attitude," the coach said, "and she's not gonna be where she wants to be (playing on the varsity team)."
By its very nature, Lawrence volleyball coach Stephanie Magnuson said, tryouts take on an intense feel.
"Day 1 of tryouts is mentally tough for the kids. It's not so much a physical test," she said. "It's a lot of pressure and they've got their wheels turning and they've got all sorts of thoughts going through their head when they need to buckle down and focus on the game."
The players who overcome mental fatigue, she added, tend to grab the coaches' attention.
"I think it's an anxiety level for athletes because they want to do their best," she said. "They sometimes tend to try so hard it hurts their game, instead of just relaxing and doing the best that they can do."
Copyright 2018 The Lawrence Journal-World. All rights reserved. This material may not be published, broadcast, rewritten or redistributed. We strive to uphold our values for every story published.