Dana White, an occupational therapist specializing in hand therapy for LMH Therapy Services, has received certification in head and neck lymphedema. White has been a certified lymphedema therapist since 2009 and has been a certified hand therapist since 1995.
Head and neck lymphedema frequently follows surgery or radiation for the treatment of head and neck cancer. It can affect a patient's ability to communicate and swallow, and in severe cases can affect respiration, vision and the ability to move about. With proper treatment, HNL typically can be reduced to a manageable level.
White has been an employee at Lawrence Memorial Hospital since 1999. She received her Bachelor of Science degree in occupational therapy from the University of Kansas in 1989.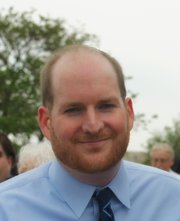 Leadership Lawrence, a civic leadership training program of the Lawrence Chamber of Commerce, named Joseph M. Jarvis, owner of Tallgrass Legal LLC, the Gavin Smith Leadership Lawrence Scholarship recipient for 2013-14.
Jarvis owns Tallgrass Legal LLC, a law practice focused on small businesses, startups, entrepreneurs and wealth planning that he founded this spring. The scholarship will pay for his full tuition to the 2013-14 Leadership Lawrence class.
Gavin Smith, a member of the Leadership Lawrence Class of 2009, was an active member of the Lawrence community and owner of a small business, Fatso's Public House and Stage. After his death in 2010, his family and friends created the scholarship to honor his life.
Leadership Lawrence provides Lawrence and Douglas County residents with the opportunity and the tools to explore their leadership styles and strengths, to gain insight into the workings of the community and to learn how to work together to solve the challenges the community will face in the future.
Truity Credit Union, formerly KU Credit Union, has promoted Jordan Schuette to Business Development Officer. Schuette will facilitate the credit union's support and contributions to businesses, civic, charitable, local and state organizations.
Schuette earned her bachelor's degree in finance at Kansas State University and her master's degree in counseling and student affairs at Minnesota State University Moorhead.
Copyright 2018 The Lawrence Journal-World. All rights reserved. This material may not be published, broadcast, rewritten or redistributed. We strive to uphold our values for every story published.