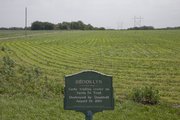 Lawrence wasn't the only Douglas County town destroyed by Quantrill and his band of his raiders 150 years ago this month. It was, however, the only one that was rebuilt.
After William Quantrill and his raiders left Lawrence in flames on Aug. 21, 1863, they weren't done looting and pillaging. They burned farmhouses and haystacks along the way before running into the tiny pioneer village of Brooklyn, 15 miles southeast of Lawrence.
The village's residents, having been warned about the approaching band of marauders, put what belongings they could into trunks and escaped, hiding in the cornfields. The bushwhackers, perhaps hyped up on mayhem and alcohol, torched much of the settlement before continuing on their way to Missouri.
Nowadays, all that's left of the town of 81 are the remains of a few foundations and a sign that reads: "Brooklyn. Early trading center on Santa Fe Trail. Destroyed by Quantrill August 21, 1863." Brooklyn, Kan., stood for only eight years before it was wiped off the map forever.
There wasn't much to Brooklyn to begin with: a horse stable, an inn, a general store/saloon, a handful of log houses. It was located in Palmyra Township, near North 550 and East 1400 roads, northwest of current-day Baldwin City. Settlers there had bought plots of land for $25 apiece, incorporating the town in 1858. It acted as a trading post along the Santa Fe Trail, which was essentially made obsolete by the building of the railroad a few years later.
After Quantrill's gang spent four hours destroying the city of Lawrence and massacring nearly 200 of its citizens, one of its spotters saw federal troops approaching. So the guerrillas headed south on Fort Scott Road toward Baldwin and Prairie City. The road intersected with the Santa Fe Trail at the small settlement of Brooklyn.
The adrenaline from the killing in Lawrence — plus a lot of alcohol — may have fueled the pillaging of Brooklyn, said local historian Katie Armitage. At that point, she said, the destruction "began to feed on itself."
Though Quantrill's men torched the village, they did — not surprisingly — leave the saloon standing. It marked the last of the raiders' destruction that day, as the federal soldiers on their heels got them moving at a brisker pace.
John Patchen, a history student at Baker University, says it may not have been a random attack. In a 2012 research paper that has received acclaim from the Kansas Association of Historians, he argued that Quantrill and his men specifically targeted the Brethren, a non-violent religious sect that had been forced out of Missouri after being told by pro-slavery forces that, in essence, if you're not with us, you're against us. Several members of the faith had settled near Brooklyn.
Patchen says Quantrill may have been stumbled on the Douglas County village because they were in the area hunting Brethren leaders Abraham Rothrock and Jacob Ulrich, who were rumored to be involved with the Underground Railroad; Ulrich supposedly also had corresponded with abolitionist fighter John Brown. Quantrill's men raided the men's homes; they didn't find Ulrich because he had been rushed to safety by his sons and son-in-law, but they did shoot and injure Rothrock.
Louisville, Colo., archaeologist Robert Mutaw has gotten closer to the remains of Brooklyn than just about anyone alive.
About five years ago, he was hired to determine where exactly the terror-ravaged city was located. A gas company was trying to relocate a nearby pipeline, but the state Historic Preservation Office objected, citing its possible proximity to Brooklyn.
Mutaw's crew started by walking the grounds of the site, where they found domestic artifacts, such as window glass and china. After discovering the remains of building foundations using a ground-penetrating radar, they decided they had enough evidence to start digging.
Underground, they found pieces of bricks, ceramic dishes and glass bottles before coming across a foundation topped with a burnt layer, evidence that this was, indeed, the gravesite of Brooklyn. The gas company diverted the pipeline so the remains of village could rest in peace. Mutaw guesses that what he found in that one confined area was likely just a "tip of the iceberg" of the artifacts that remain.
Copyright 2018 The Lawrence Journal-World. All rights reserved. This material may not be published, broadcast, rewritten or redistributed. We strive to uphold our values for every story published.