Harrisonville, Mo. — There were plenty of signs that I wasn't in Kansas anymore: the William Clarke Quantrill T-shirts; the rock song with the "I'm gonna burn Lawrence down to the ground" lyric; the men on horseback screaming "Let's torch Lawrence!"
I came to western Missouri to retrace the path of Quantrill's raiders, as part of a guided bus tour commemorating the event that changed the course of both states' histories: the Aug. 21, 1863, raid of Lawrence.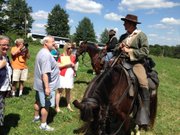 I learned just how differently the massacre of about 200 men and boys is remembered on both sides of the Kansas-Missouri state line. As Lawrence observes the sesquicentennial of the raid, just an hour away people are gearing up to mark the 150th anniversary of General Order No. 11, the Union army's forced evacuation of parts of four western Missouri counties it felt had provided safe harbor for Quantrill's raiders, including Cass County, where the bus tour started.
About 100 people took the air-conditioned trek Saturday, a mix of Missourians and Kansans, with a likely majority of the former: the Missouri side of the tour garnered enough interest to warrant two buses; the Kansas side, scheduled for Sunday, only one.
Specifically, it took off from the Burnt District Monument, which memorializes what happened after that order went into effect: the mass exodus of tens of thousands of residents and the burning of most of their homes and farms.
Not just about slavery
What came into focus on the tour is that the battle between the two states wasn't just about the right to own African-Americans; it was about a bloody cycle of vengeance and vigilantism, often based more on where you lived and who you were related to than which side you supported in the Civil War.
"These weren't men who were simply fighting for and against slavery," said tour guide Tom Rafiner, a Cass County, Mo., historian. "They were fighting for family, for land, for revenge."
On Aug. 18, 1863, about 290 bushwhackers came on horseback from far and wide to meet Quantrill at the farm of James Pardee, which is located in a hilly area near the town of Columbus, Mo., about 90 miles southwest of Lawrence. They spent the day readying their equipment for the battle to come, though few of them knew their final destination. Quantrill had supposedly made that decision eight days earlier, telling only a few trusted lieutenants.
The terrain was much different then, the tour guides pointed out Saturday: hardly any trees, just tall prairie grass, and, of course, no paved roads and housing and shopping developments.
The places they stopped, then, usually had an abundance of water — not easy to find, as the previous six weeks had seen no rain — and the natural cover of trees.
On the morning of Aug. 19, 1863, "the word goes out to saddle up," Rafiner said. The raiders traveled much of the day until they arrived at Benjamin Potter's farm near Lone Jack, Mo. The Potters and their neighbors fed the men and their horses.
It would be a fatal decision for Potter, as, a month later, Captain Charles Coleman of the Ninth Kansas Calvary — who Rafiner called "the most feared bushwhacker hunter in western Missouri" — returned to slay Potter and five of his neighbors, who are now buried under a monument near the farm where we stopped Saturday.
After we left, the trip started to get surreal. While much of the journey didn't look that much different from it did in Quantrill's day — it's still mostly farms and farmhouses — this part of western Missouri would have been alien to the bushwhacker raiders: a mix of modest McMansions, manicured lawns and manufactured ponds. Driving through northern Cass County, we listened to tunes by the Cole Younger Band, as we passed Cole Younger Way, on land once owned by the outlaw's father, Henry.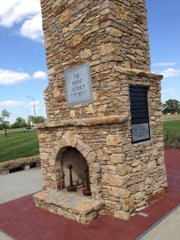 On the way to camp
Quantrill and his men, meanwhile, rode under the cover of night, until they reached Lumpkin Creek. That's where about 100 more men, recruited by Confederate sympathizer John Holt, joined the group. If the raiders didn't before know where they were going, they likely had a good idea now, 20 miles from the Kansas border.
"These last few miles before camp were pretty quiet. There wasn't a lot of talking. It was like a calm before the storm," Rafiner said, adding: "The same thing is happening on this bus as was happening with Quantrill's men: Are we there yet?"
They continued until they reached camp at the Dye farm, now an idyllic country house encased in shrubbery and fruit tress. We stopped here for a lunch of beef and pork, corn and green beans, heirloom tomatoes and applesauce, and apple, peach and blueberry cobbler. We drank iced tea and lemonade out of tin cups, and watched a reenactment of the raiders' departure the day of Aug. 20, 1863.
"Lawrence — they started this mess, let's burn it to the ground," said the fake William Quantrill, who reported that he used gunpowder to darken his hair ("Don't light a cigarette around me.")
"Let's torch Lawrence!" his men answered back.
We listened to rocker Chris Edwards' "Lawrence." "See Missourians fight back and kill for Southern rights. We're sworn to shed blood and sacrifice our lives," he sings. "We're gonna stop Jayhawking right now. We're gonna burn Lawrence to the ground!"
Afterward the Quantrill re-enactor told us he read about the events in Lawrence scheduled for the 150th anniversary of the raid.
"That'll all be a pack of lies," he said, straddling a dark brown horse.
Divisions remain, 150 years after the fact. One fellow tourist asked if I had gone to Kansas University. I said I hadn't. "Good," she said. "The KU-Mizzou rivalry is about more than just basketball. There are strong feelings there."
"Lawrence doesn't much like Quantrill," said one woman in a Quantrill T-shirt, which on the back had a "quote" from Quantrill: "Lawrence is a nice place to visit but I wouldn't want to live there."
Quantrill's raiders later added about 50 more men at the "Massey Creek rendezvous" in western Cass County. A squadron of around 425-450 guerrilla fighters prepared to cross the border into Kansas. We know what happened next.
Copyright 2018 The Lawrence Journal-World. All rights reserved. This material may not be published, broadcast, rewritten or redistributed. We strive to uphold our values for every story published.