Creamy red, brilliant magenta and peachy coral blossoms are basking in the late summer sun atop the vertical stems of crapemyrtles in many gardens around the area.
Although crapemyrtle grows larger in southern climates than it does here, several cultivars are well-suited to the Midwest and are a great source of color from July to September.
Crapemyrtle (Lagerstroemia indica) is a medium-sized shrub or small tree with attractive exfoliating bark. Flowers are produced on panicles ranging up to 8 or 9 inches long by 5 inches wide and may be purple or white in addition to the more common reds, pinks and corals. Leaves are somewhat nondescript but create a deep green backdrop to other plantings outside of the bloom season. Crapemyrtle also produces attractive seed capsules that hang on the branches into the early part of winter.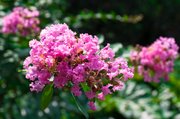 The plant is a great specimen or focal point in the garden, although it can also be used en masse to provide dramatic color. Crapemyrtle likes hot, sunny climates, so plant it in full sun. It also prefers good drainage and consistent moisture levels like many plants. Amend soils with compost prior to planting to alleviate drainage, and keep the plant mulched.
Avoid over-fertilizing or planting in high-fertility soils as it can encourage lush foliage growth rather than plentiful blossoms. Water the plants deeply over extended dry periods.
In cold winters, crapemyrtle may die back to the ground and regenerate the following spring from the root system. The lower cold hardiness of the stems is the main reason that crapemyrtles stay smaller here, but the shrub can still reach 8 feet or more in a single season. For best results, plant crapemyrtle in a protected location and apply extra mulch around the plant each fall. If the top dies back, trim stems to 8 inches in spring as new growth emerges.
The Missouri Botanic Garden lists 35 cultivars of crapemyrtle that are suitable in USDA Hardiness Zone 6 locations such as Lawrence. A cultivar called Velma's Royal Delight has long been considered as one of the most cold-hardy crapemyrtles and is the most common in the area. This cultivar has magenta flowers and typically grows to 5 feet tall.
The 'Whit' series is taking a little of the limelight with Raspberry Sundae (Whit I), Dynamite (Whit II), and Pink Velour (Whit III). Dynamite produces cherry red blossoms with the blossoms of the other two in the series representative of their names. The Whit series crapemyrtles may be 5 to 20 feet tall depending on location.
A few other tried and true varieties for the Midwest are Hopi, Zuni, Acoma, Pink Ruffles, and Prairie Lace. Additional cultivars may be recommended by your favorite garden center. Size and flower color ranges with cultivars.
— Jennifer Smith is the Horticulture Extension Agent for K-State Research and Extension in Douglas County. Contact her or an Extension Master Gardener with your gardening questions at 843-7058 or mastergardener@douglas-county.com.
Copyright 2018 The Lawrence Journal-World. All rights reserved. This material may not be published, broadcast, rewritten or redistributed. We strive to uphold our values for every story published.