(Editor's note: This is the first in a two-part series about what it takes to keep someone with amyotrophic lateral sclerosis, or ALS, living at home and other challenges that come with being severely disabled.)
Every morning, after the birds announce the start of another day, Kent Smalter has visitors.
They walk right into his Lawrence home — no need to knock. Smalter listens from bed, waiting for them to take off his covers, bring him a drink of water and roll him on his back.
They wheel over a dolly, pull him to the edge of the bed and lift him onto the platform.
From there, it's to the bathroom, where they help him relieve himself. They sit him on a commode, his swollen feet dangling. They wash him, brush his teeth, put his clothes on, one article at a time — socks, pants, shirt, shoes.
After this arduous process is finished, they put him in his wheelchair, where he'll spend the next 14 hours of his day, except for the rare occasion when he gets out of the house to, say, go on a country drive. Even then, he'll remain sitting, in a specialized van. A slightly less grueling process happens at night, when Smalter is stripped down and transferred from his wheelchair back to bed.
Not all the people helping him are professionals. Some are lifelong friends. Others are neighbors who heard about his condition and wanted to pitch in. Some are former employees from his days running a local awning business. Still, it has taken years — of legal battles, of his girlfriend working herself to exhaustion, of recruiting volunteers — to coordinate the near-constant care Smalter needs to remain in his home.
Photo Gallery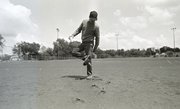 Living at home with ALS
Kent Smalter, a Lawrence man with amyotrophic lateral sclerosis, or ALS, is able to live at home thanks a coordinated network of volunteers and professionals who get him in and out of bed and take care of him throughout the day.
Smalter has amyotrophic lateral sclerosis, popularly known as Lou Gehrig's disease, a neurological disorder that gradually degrades the brain's ability to communicate with the muscles. ALS prevents Smalter from being able to move much more than his neck or a few fingers.
Still, the 62-year-old has outlived doctors' prognostications. ALS sufferers live, on average, two to five years; Smalter is closing in on a decade. He can still talk and eat like a normal person, unlike many people with the disease who lose those abilities in a fraction of the time.
Smalter is grateful to the volunteers and home health care aides who allow him to stay out of a nursing home, yet he readily acknowledges being one of the "lucky" ones. Many disabled people simply give up on the byzantine American health care system and try to make it on their own; others retire to nursing homes. He acknowledges that not many people have lived in the same community most of their lives, forming lifelong bonds along the way, and run a business, spending years managing bureaucracies. Use me not as an example of the norm, Smalter says, but as an example of how difficult it is to be severely disabled.
Disabled, caring for disabled people
Use Smalter's nurse, Bryce Johnson, of an example of what usually happens, Smalter says.
Johnson was a married father of two who worked in construction when he went out for drinks in Lawrence a summer night a few years back. He was waiting in line at a downtown nightclub when gunshots rang out into the crowd, perhaps intended for the bouncers with whom the shooter had been in a dispute. The bullet entered Johnson's leg, ricocheting inside, tearing through the muscles and nerves. Surgeons worked to stop the bleeding and get the swelling down, but they couldn't restore life to the limb — they had to amputate it.
For Johnson, the transition to one leg would be particularly difficult: A lifelong athlete who wrestled, played football and ran track, he often worked blue-collar jobs that required hard labor.
"Now I can't even stand without feeling like I'm going to lose my balance and fall," he says.
After the shooting, he was in a hospital bed for weeks but eventually decided it was time to go. He checked himself out. But back at home, he was stuck in a wheelchair, unable to work and support his family. So he applied for disability benefits.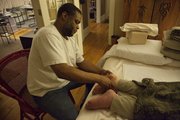 The state wanted to know just how "disabled" he was. It sent him from doctor to doctor, making him pay out of pocket — all for the grand prize of about $1,000 a month in disability insurance. Eventually, he could no longer afford the appointments. The bureaucracy won.
"I got to the point where the bills were just piling up," he says. "I had no income, nothing to keep my family afloat but hopes and dreams."
He wanted a prosthetic leg so he could go back to work, but he didn't have insurance — a fake limb can cost upward of $30,000. Then, a fellow amputee referred Johnson to a prosthetic manufacturer. The guy was saddened to see Johnson, who was now on his wife's insurance, having to use a wheelchair. So he knocked $10,000 off the asking price. Two-and-a-half years after the shooting, Johnson got his new leg. He was up and walking the same day.
While he was laid up, Johnson took classes online, earning a nursing certificate from a local college. Once he could walk again, he took a job with Trinity In-Home Care in Lawrence.
Smalter is one of his regular clients. Johnson is there four nights a week, putting the 200-plus pound man to bed all on his own.
There's one problem: Johnson's prosthetic leg no longer fits. His stump presses into the prosthetic with every step — bone on skin on hard plastic, step after step after step. Over time, his stump has worn down — and the $35,000 leg stopped fitting.
He now walks with a limp. To take each step, he swings around the prosthetic, pushing his stump to the bottom of it, generating enough force to lift his good leg — and then repeats.
Smalter thinks Johnson is a victim of a stingy and over-burdensome public-aid system, designed to weed out fraud that doesn't exist but that instead ends up turning away people like Johnson: those not knowledgeable or savvy or rich enough to put up a fight.
Molly Wood, a Lawrence attorney, helps disabled people traipse the maze of health care in America — given that they know to seek out her services in the first place and, even then, that they can afford it. She explains the disability insurance system like this: "The idea is not can you go back to the work you used to do, like construction work. The rule is can you do any substantial gainful employment — can you sit in a tollbooth and take money?"
So, how did Johnson make it through?
"To be honest — the grace of God," the 39-year-old says on a recent night, as he gives Smalter his medicine and unstraps him from the wheelchair. "I just got out of bankruptcy in October and November. I took handouts to stay afloat. And my wife worked, of course."
Johnson put a board under Smalter's feet, rolling him from the wheelchair onto his bed before disrobing him. Johnson says he's often overwhelmed by phantom pains, sensations where it feels like his leg is back.
"I'll just work, work, work until I can't do it anymore," he says, massaging Smalter's back and rear end, trying to keep his client's skin loose to prevent bed sores and help circulation.
Johnson likes his job, especially the patients that, like Smalter, he sees day in and day out.
"A lot of them, they relate to me, because I have a disability," he says. "I'm always just trying to do my job. I'm here when I'm supposed to. They know when I say I'm coming, I'm here."
He readies Smalter for sleep, making sure everything is just so — the pillows, sheets, his feet (later, another aide comes to spend the night at Smalter's, in case he needs assistance and to roll him over so he doesn't get bed sores).
"Pull this arm out one more time and I think we'll have it licked," he tells Johnson.
Johnson puts the covers over Smalter before turning off the lights.
"Good night."
"Good night."
For the love of a friend
Smalter was born and raised near Chicago, the oldest of five siblings. He came to Kansas University to study industrial design and sociology. After college, he says, he "stumbled about" for a few years, a hippie doing odd jobs. He worked in construction for a while, ran a roofing crew, before deciding to settle down and start a family. He opened a business, Kaw Specialties, that sold blinds, awnings, window tinting.
John Bowden met Smalter playing softball in the mid-1970s; the two would later go on road trips together during Bowden's racing career, staying in seedy motels across the country. Now, Bowden, 65, volunteers a few mornings a week to get his friend up and ready.
"The main thing is Kent's attitude. You don't dread showing up," Bowden says on a recent day, before telling Smalter about the exotic meats he tried at a Mexican restaurant on his latest racing excursion.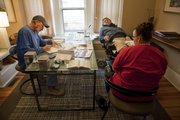 There's also Todd Pederson, the brother-in-law, who helps out even though he works full time. There's Billy Price, the former employee, whose own stepfather died from ALS. There's John Naramore, the longtime acquaintance, who says he finds it an "honor" to care for Smalter. There's P.J. Karlin, the old friend, who used to go to Kansas City Royals games with Smalter and now takes him on joyrides in the country.
"I'm sure everybody wishes they could do more," says Whipp Finneran, 61, who has known Smalter since the two worked on the same roofing crew and played together on the River City Roofers softball team in the '70s. He spends a lot of time with Smalter, taking him out to eat much as he can. Asked why so many people volunteer for Smalter, Finneran says, "He's worth it — that simple."
It's one reason Smalter considers himself lucky: lucky to have such great friends, relationships formed after living in the same town for decades. That's why, he contends, it isn't him we should we worried about; it's the elderly woman, alone, in her own home, no one to turn to for aid or advice.
"Without the help of my little network of friends, I'd likely have to go in a nursing home," Smalter admits.
Still, it takes a certain kind of person to regard himself as fortunate after the hand he was dealt: a disease that slowly strips him of the ability to move while leaving his mind perfectly intact, trapping him in the confines of his human shell. While many people in his position would have reason to sulk and be bitter and lash out the world, he knows that would be an express ticket to a solitary existence.
"If I was pissy and irritable constantly, that would make everyone's job harder," says Smalter, who explains tasks in a calm, measured manner, hiding any frustration he might be feeling. "Let's face it: A lot of these people are completely volunteering their time. I don't know a lot of them who sit and watch TV all day. Most have busy, active lives. If I'm not relatively pleasant to help, their energy level's not going to be what it should be."
Even his nurses stay loyal. Carolyn Milleret, of the Douglas County Visiting Nurses Association, has been coming five times a week for the past two years. She appreciates the help from Smalter's friends.
"They do all the heavy lifting," she says, feeding Smalter a piece of toast on a recent day.
Despite his own circumstances, Smalter can't help but advocate for others.
"These professionals like Carolyn are all chronically underpaid," he says later. "If they're not getting positive reinforcement from patients, their job is less rewarding."
Copyright 2018 The Lawrence Journal-World. All rights reserved. This material may not be published, broadcast, rewritten or redistributed. We strive to uphold our values for every story published.