Record player collection on display in Blue Rapids
"Fib's Collection of Record Proportions" is on display at the Blue Rapids Museum at No. 36 Public Square, Blue Rapids, about 50 miles north of Manhattan. The exhibit is open Saturdays from 9 a.m. to noon and Sundays from 2 to 5 p.m.
For information, call 785-363-7949 or send email to brhissoc@yahoo.com.
Photo Gallery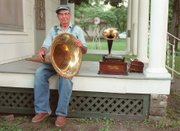 Fib's Collection of Record Proportions
The extensive antique record player collection of a Blue Rapids man is on display at the Blue Rapids Museum as "Fib's Collection of Record Proportions: 94 Years in the Making."
Blue Rapids — The collection looks something like what you'd have found in an expensive department store in an earlier century, dropped into our world through a time warp.
Carefully arranged on the showroom floor are dozens of finely polished cabinet Gramophones and spring-powered Edison phonographs, including a Model A record player that sold for $20 in 1901. Like all of them, it looks brand new, and plays music if you know how to work it.
Elsewhere in the inventory are older, stranger musical machines: hand-cranked contraptions that play songs on wax cylinders, phonographs with giant, multi-colored horns, player harmonicas, and rare stringed instruments such as pianolas, harpanolas, and pianoharps. There are hundreds more.
The truth is, a store carrying this particular inventory never existed. This is "Fib's Collection of Record Proportions: 94 Years in the Making," at the Blue Rapids Museum, a public exhibit that will be open through September. It is the collection of one man, a retired mechanic living in Blue Rapids, about 50 miles north of Manhattan, who spent the last few decades of his life acquiring, repairing, and refurbishing mechanical curiosities from the dawn of electricity. The exhibit draws on more than 200 antique record players, which the family believes is one of the most extensive such collections in the country.
'He wasn't fond of music at all'
The collector, Floyd Sutton, died earlier this year at the age of 94, and it is his wife, Martha, who shows a visitor around the showroom floor in a storefront behind the local historical museum. Martha can operate, and offer detailed descriptions of, many of the Gramphones and phonographs. Some of the other items she can't even begin to identify. Many are tagged with coded inventory numbers that no one alive could decipher now.
Why did Sutton devote so much of his life to this? The question is laughable to Martha and their son, Speedy. "If you can figure that out, you've got us all beat," Speedy says. It wasn't because of a love of music, they agree. "He wasn't fond of music at all," said Martha, who was married to Sutton for 65 years. "He never was."
Sutton was a collector all of his life, picking up toys, steam engines, and clocks to tinker with and repair. He filled the house with them, and then dug a basement and built sheds and filled those. Martha never fully undersood it, she said, but Sutton didn't drink or smoke or tell lies, and she accepted his hobby as healthy occupation. His nickname, "Fib," came from his unwillingness as a child to go along with stories that other children would tell their parents, she said.
But after Sutton retired, his collecting became a full-time job, and antique record players became his number one pursuit. It started like a lot of his other diversions, which ran to antique clocks and lanterns, Speedy said. "He had gone to an auction and got the first one, and there was no looking back."
For about the next 40 years, Sutton was busy. He got up early in the morning and headed down to his basement workshop, where several record players and clocks would be in various states of reconstruction. His day was spent working on each one in turn, studying the inner workings, replacing broken parts, refinishing the exteriors. When he had one looking new again, he listened to it play only long enough to be sure it was working properly.
"And then he was on to the next one," Speedy said. "He was focused all the time. It's just inconceivable the amount of time he worked on those. He was consumed by the mechanics of it."
On the weekends, Sutton went to auctions and flea markets, seeking another machine and the tiny, old-fashioned parts he needed to fix the record players he already had. He was the first buyer at the auction and the last to be outbid, his family said, and he developed a sharp eye over time. "He could spot a part for one of those things from 1,000 yards," Speedy said.
'On to the next one'
One after the other, year after year, Sutton returned the record players to working condition and then set them aside. Most range in value from a few hundred dollars to $1,000, but he wasn't interested in money, Speedy said. Sutton asked his children to put them on display when he was gone and then sell them. He didn't want his collection to sit in a museum forever.
Honoring that wish, the family will put the record players on sale along with other items later this year, except for some pieces the family is keeping. Speedy has set aside for himself a cuckoo clock, the only machine to defy his father forever.
Sutton took up the broken cuckoo clock years ago for repairs, seemingly no different from the others, Speedy said. And Sutton did make it work again, but with one flaw: it always cuckoo-ed one extra time — that is, 13 times — at the 12 o'clock hour. Sutton spent years working on it, but even with all of his powers he could not make the cuckoo behave correctly. "That used to just aggravate him to death," Speedy joked. "So, I'm keeping that one."
But the rest will be available for purchase after "Fib's Collection of Record Proportions" finishes its run in late September or October.
For her part, Martha said she won't be sad to see the collection go. "I've been living with that junk for 65 years," she said. "I don't need it anymore."
For information about the exhibit, contact the Blue Rapids Museum call 785-363-7949 or send email to brhissoc@yahoo.com.
Copyright 2018 The Lawrence Journal-World. All rights reserved. This material may not be published, broadcast, rewritten or redistributed. We strive to uphold our values for every story published.