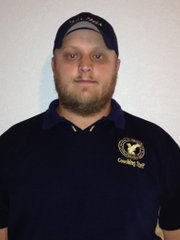 As young Blake Mudd enters his first year coaching Veritas Christian School's eight-man football team, nothing would make the 25-year-old happier than replicating the prosperity the Eagles had under his predecessor, Doug Bennett, the man who founded the team in 2003.
"Any time you take over a program that has success," Mudd said, "you've got big shoes to fill, No. 1, but the kids have been accustomed to having success, too."
Veritas won the 2010 Kansas Christian Athletic Association state championship and appeared in each of the past three state title games. Realistically, maintaining that level won't come easily.
The Eagles' new head coach, who served as co-defensive coordinator last season and spent three years before that with the Veritas junior high team, expects his players to be great on and off the field, but he can't say whether the team will make it back to the KCAA championship game for a fourth straight year. Veritas only has two seniors on its roster and no juniors, so six of the eight starters will be sophomores or freshmen.
"We are going to make mistakes because we're young," Mudd said, "and that's OK."
Mudd anticipates his past involvement at Veritas should make his transition easier, because he doesn't have to establish himself with the players, their families or the school's administrators. However, he will ask the Eagles to learn some new terminology that comes with his modified version of the offense, and the players will have to get used to the team's new assistant coaches.
Plus, Mudd plans to make his mark on the program by molding a more complete defensive unit. He played nose guard at Salina South, which won the Class 5A state championship in 2004, Mudd's junior year. As the former lineman watched the Eagles' defense last season, he saw too many mistakes, typically in the form of missed tackles.

"That's what really killed us," Mudd said, "and allowing a lot of cutback lanes."
In the coach's limited summer work with the players, he introduced them to a new gap- and assignment-based defense. Last year, he said, the Eagles relied too heavily on instinct, and they need to become more technically sound.
While the players adjust, Mudd knows he will have to do the same, as a first-time high school head coach. He could rely on Bennett for the logistics and decision-making in the past, but now it's on him.
As he tailors his own coaching style, Mudd said he will borrow a thing or two from Bennett. The former coach taught him a lot about patience and getting the most out of players by just talking with them.
"I was more of a rah-rah guy," Mudd said. "Seeing how Doug always had an even keel about him was big for me."
The difficult part, of course, will be matching Bennett's winning ways — 64-30 record in 10 seasons — and/or making another trip to the state title game, a destination which Mudd said hasn't been discussed.
"Our goal at the end of the year is for our last game to be our best game," he said.
Veritas begins practice Monday and will open the season Sept. 6, by playing host to the Wichita Warriors home school team.
Copyright 2018 The Lawrence Journal-World. All rights reserved. This material may not be published, broadcast, rewritten or redistributed. We strive to uphold our values for every story published.