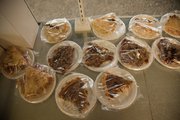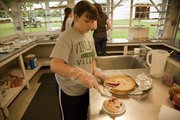 Friday, Aug. 9
Stock bicycle races, 10 a.m.
Sack races, 12 p.m.
Softball throw, 12 p.m.
Tug of war, 12 p.m.
Antique tractor pull, 7 p.m.
Walt Babbitt and the Roots of Country band, 7:30 p.m.
Food: Vinland Fair volunteers will serve a lunch and dinner of homemade chicken and noodles, barbecue beef and pork
Saturday, Aug. 10
Horseshoe pitching, 9 a.m.
Box turtle race, 11 a.m.
Pet parade, 11 a.m.
Livestock judging, 1 p.m.
Pedal tractor pull, 2:30 p.m.
Watermelon seed spitting contest, 3:30 p.m.
Lawn and garden tractor driving skills competition, 5 p.m.
Home made ice cream making competition, 7 p.m.
Bluestem band, 7:30 p.m.
Food: Vinland fair volunteers will serve a lunch and dinner of beef brisket, barbecue beef and pork
Directions to the Vinland Fairgrounds (1736 N. 700 Road)
Go south on Haskell Avenue, then continue onto E. 1500 Road
Turn left onto County Road 458
Turn right onto E. 1600 Road
Continue onto E. 1650 Road
Continue straight onto N. 700 Road. The fairgrounds will be on the left.
At the Vinland Fair, folks know what it takes to have a good time.
You don't need bright, blinking lights or amusement rides, cotton candy or clowns. When it really comes down to it, you just need each other.
Elois Craig first came to the Vinland Fair as an eighth-grader, decades ago. Back then, the tiny town had a school where the children and community could congregate and keep up with one another's lives. But since the agricultural community's school closed in 2011, residents rarely see one another, aside from the hog feed events each May and annual pancake suppers.
"I like seeing everybody at the fair, especially now since I'm retired," Craig said. "It's fun to see the kids do the silly little things they all think is so great."
Many rarely even see their neighbors, who might live "next door" a couple acres away. So even though Thursday was a muggy, wet day, Mary Gensler, who has served on the fair board for 25 years, said she was not surprised that the community still came out in droves.
"This is the only time of the year when people can see each other and catch up," Gensler said. "A little rain isn't going to stop them."
While many attendees have been coming back year after year to the community celebration, you don't have to be one of the regulars to enjoy the welcoming environment. The kind nature of the fairgoers makes it easy to gain new friends.
This is only the second year Ruth Story has made her way to the Vinland Fair. Growing up in Baldwin City, Ruth Story's father always tried to wrangle her to go with him, but as a teenager, Story said, she thought she was "too cool" to go out to the little community event.
"When you are young, you always think your parents don't know anything," Story said. "Then you grow up and you realize they knew everything."
Now, Story brings her own daughter, Rosie, out to the Fair, where Story said she has fallen in love with the event she so protested when she was younger.
"Everyone is so kind and genuine. We just sat at the tables last year and people would come up and chat with us all day," Story said. "It's not about rides or bright lights; it's about the people, the community spirit.
While you can't win a stuffed animal from carnival games at the Vinland Fair, you can win 25 cents for slinging the fastest hammer or throwing a bale of hay. That might not seem like much in the city, but there's something about the simplicity of the celebration that makes a quarter seem like a gold medallion.
Three-year-old Tyson Boyer smiled a toothy grin while taking his turn in the nail-hammering competition Thursday. After the blonde little boy finally wedged the tiny peg into the wood after 30 or 40 taps of the mallet, he yelped out a cry of glee.
"I did it, Mommy!" Boyer said, "Your turn now?"
His grandmother, Barbara Maycock, has been taking his mother, sister, aunt and cousins out to the Vinland Fair since she moved to the red-roof farmhouse just across from the fairgrounds 15 years ago. Maycock said the happy environment at the fair keeps the competitions friendly and the children entertained.
"You hear kids cheering and supporting each other during the gunny sack races. They all just get along," Maycock said. "They run around, hop on their bicycles and make friends. You don't need an iPod or a cell phone to have fun here."
While modern times and technological gadgets have not caught up to the Vinland Fair in its 106 years, Story says the modest celebration offers a wholesome experience that is hard to find nowadays.
"It's the way it was a hundred years ago," Story said. "It's the way I wish the world still would be."
Copyright 2018 The Lawrence Journal-World. All rights reserved. This material may not be published, broadcast, rewritten or redistributed. We strive to uphold our values for every story published.