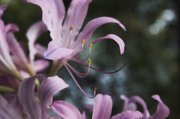 Upcoming classes
Gardening 102
Open to anyone looking for basic gardening skills in the areas of soil, compost, mulch, trees, lawns, houseplants, container plants, and insect pests. Aug. 24, 9 a.m. to noon, $15 per person, pre-registration required through K-State Research and Extension–Douglas County.
Master Gardener Basic Training
Open to area residents with interest in joint community service/education program. Tuesdays, Aug. 20 through Nov. 12, $100 per person, application required through K-State Research and Extension–Douglas County.
Surprise lilies are popping up around town this week, holding true to their name by sending out their delicate, fragrant blossoms when gardeners have all but forgotten the flowers' impending arrival. They get me every year — just in the time when other flowers are looking a little ragged from the heat and the cicadas' songs lull me into believing summer is almost over.
The lilies are so named because of the blossoms that appear seemingly overnight on leafless stems that are two feet or more in height.
The flowers grow in clusters of five or six funnel-shaped blossoms and have long stamens extending from the center of the flower past the edges of the petals. The most common species is pale pink in color.
Surprise lilies produce leaves too, just at a different time from the flowers. Long, strappy foliage is produced in abundance in the spring but quickly dies back, leaving little evidence that it ever existed.
Surprise lilies are also called resurrection lilies, naked ladies, magic lilies, spider lilies, pink flamingo flowers, and are sometimes confused with the related amaryllis. Whatever you prefer to call them, the lilies grow well in our area with minimal attention. They multiply on their own but only at a pace that will allow you to share with friends every five years or so. You can see surprise lilies occasionally surviving on old homesteads next to the irises and lilacs.
The best time to transplant or divide surprise lilies is right after they bloom. Dig the clumps and separate the bulbs. Replant bulbs four to six inches deep at your own preferred spacing — each bulb will produce one flower stem. Small bulbs may take a year or two before flowering.
Although surprise lilies can be grown just about anywhere, mixing them with other perennials or overplanting with groundcover creates a nice effect in the landscape. Surprise lilies prefer full sun but will tolerate light to moderate shade.
The pale pink species most commonly grown in this area is Lycoris squamigera. Adventurous gardeners might be interested in trying the closely related tie-dye surprise lily (L. sprengeri) with darker pink flowers and blue shading, orange surprise lily (L. sanguinea), or red spider lily (L. radiata). The latter three species are generally less cold-hardy than the common pink surprise lilies, but can be overwintered with heavy mulch. The Missouri Botanical Garden, which is in the same USDA Hardiness Zone as Lawrence (Zone 6), reports diminished blossoms after especially hard winters but has also successfully grown all of the above species for several seasons.
Red and orange Lycoris produce foliage in the fall rather than spring and may also need a little extra winter moisture. Another variety, golden spider lily (L. aurea), is less cold-hardy and unlikely to overwinter here.
— Jennifer Smith is the Horticulture Extension Agent for K-State Research and Extension in Douglas County. Contact her or an Extension Master Gardener with your gardening questions at 843-7058 or mastergardener@douglas-county.com.
Copyright 2018 The Lawrence Journal-World. All rights reserved. This material may not be published, broadcast, rewritten or redistributed. We strive to uphold our values for every story published.