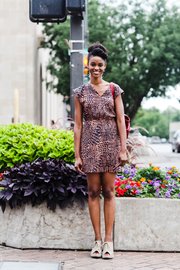 Name: Erica Hill
Age: 33
Hometown: Hutchinson
Time in Lawrence: Five years altogether
Occupation: Sales manager
Dream job: I'm happy with what I'm doing.
What were you doing when scouted? I was just walking down Mass. Street.
Describe your style: I really don't have one. It's whatever I want to wear.
Fashion trends you love: I like shopping at thrift stores and finding that signature piece that not everyone has. I like comfort and fashion. It has to be cute and comfortable. I'm not going to suffer in the name of fashion!
Fashion trends you hate: I'm not into the military look and all that sheer stuff that's in now.
Fashion influences: Sometimes magazines play a little bit of an influence but that's about it. I don't consider myself "fashionable."

What would you like to see more of in Lawrence? I love it here because everyone is different so I think that's perfect. Every person you look at is wearing something different versus when you go to another city where everyone is wearing kind of the same thing. I'd also like to see more family restaurants.
Less of? Nothing comes to mind.
Tattoos or piercings: My ears are pierced.
Whom do people say you look like? What's Obama's little girl's name? Sasha?
What type of music do you unwind to: I'm always wound up. I don't unwind. I do like relaxing, soothing lounge music with instrumentals.
Tell us a secret: I love country music.
Copyright 2018 The Lawrence Journal-World. All rights reserved. This material may not be published, broadcast, rewritten or redistributed. We strive to uphold our values for every story published.