Lawrence crime, fire, courts coverage
Have a tip?
Contact Journal-World reporter Caitlin Doornbos: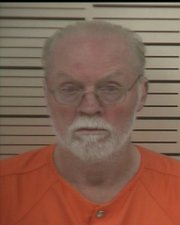 Prosecutors will try a third time this November to convict a 62-year-old Valley Falls man of attempted murder after previous prosecutions ended in a mistrial and a hung jury.
John Hayworth Jr. will be tried again in the December 2011 shooting of William Schoonover, 58, also of Valley Falls. The shooting stemmed from a dispute between the two on Schoonover's property, about 40 miles northwest of Lawrence.
Hayworth first stood trial for the shooting in October 2012, but that proceeding ended in a mistrial when Jefferson County District Judge Gary Nafziger ruled that the jury saw improper evidence. Jurors had watched a DVD containing footage that should have been redacted, Jefferson County Attorney Jason Belveal said.
A second trial in June ended in a hung jury because jurors said they could not reach a verdict. The third trial has been set for Nov. 13. Belveal said he expected to prepare the case much as he had before and simply will present it again.
In previous trials, much of the testimony centered on a years-long feud between Schoonover and Hayworth, who owned adjoining cow pastures and had battled over the maintenance of a fence that divided their property. The dispute turned violent during an argument on the morning of Dec. 4, 2011, when Hayworth shot Schoonover in the chest with a .357 Magnum handgun.
Hayworth, a former paramedic, performed first aid on the wounded Schoonover, who survived. Hayworth called 911 and was arrested immediately after the shooting.
Hayworth has admitted the shooting, but claimed self-defense, testifying that Schoonover had attacked him. The prosecution and defense have each offered different accounts of the confrontation, with Schoonover denying having attacked Hayworth.
Prosecutors initially charged Hayworth's wife, Bernadine Hayworth, with aggravated battery and obstructing the investigation when she was accused of kicking Schoonover in the head after he had been shot. Those charges were later dropped.
Hayworth has testified that he always carried the pistol with him whenever he was outside his home. He had a concealed-carry permit, which has been suspended while the attempted murder case is pending.
Copyright 2018 The Lawrence Journal-World. All rights reserved. This material may not be published, broadcast, rewritten or redistributed. We strive to uphold our values for every story published.