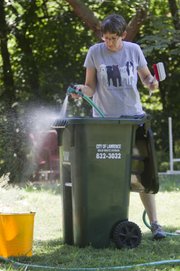 Does your trash stink? Well, of course it does. But, um, does it seem worse than you remember?
"When I sit on my patio outside of my back door, the odor comes out of my garage where the trash can is and I can smell it where I'm sitting," Lawrence resident Bitsey Patton said. "I remember thinking, 'This has never happened before.'"
The difference between now and before: Could it be the city's new trash cans?
The City Commission approved the purchase of standardized trash carts for the city last August and a 65-gallon cart was provided to all single-family residences last fall. Craig Pruett, the operations supervisor for the City of Lawrence Solid Waste Division, said the city followed the recommendation of the city's Solid Waste Task Force, which said the standardized carts would improve workers' safety and allow the city to use automated trash trucks.
That's the theory. But Patton said she knows that while the heat from the summer makes garbage smell worse, it's not that. The lingering oder of trash seems to have something to do with the new carts — and the smell coming from the cart continues even after the cart is cleaned out.
Nalini Johnson, another Lawrence resident, says her can was retaining odors, too. She received a brand-new extra trash cart about two months ago, and after having it for only one night, she opened the cart and it smelled awful. She was confused how it could smell this way when it was brand new, but after leaving it open rather than letting it stay sealed so tightly, it doesn't stink.
"It's worse when we leave it shut," Johnson said.
Pruett said the new containers do seal very well, and that could be the reason some residents are having an issue with their carts retaining odors. However, he said, the city has yet to receive any complaints on the issue.
"If you're having an issue with your cart, we'd like to know your address to check it out," Pruett said. "Call the solid waste division dispatch … we'd be more than happy to look into the issue and see what kind of resolution we can find and take care of it for them."
To reduce any odor issues, Pruett advises bagging trash before putting it in the can to make sure everything is contained, buying good trash bags that don't easily tear and making sure everything is sealed inside the bag, so trash crews can get all of the trash out of the can.
Patton, for her part, is trying to keep her trash can cleaner. She says that when she first noticed the smell, she hosed down the cart and let it dry out in the sun. When that didn't work, she tried Mr. Clean detergent, again and again, followed by more sun-drying — but it still smelled terrible. Since then, she's used a special deodorizing product that she has for her dogs — and she says she isn't done trying.
"I've lived here 30 years and I've never had this problem," she said. "Now that I have these new cans, all of a sudden there's an issue."
To contact the Solid Waste Division, call 832-3032 or go to their website, http://lawrenceks.org/wrr/carts.
Copyright 2018 The Lawrence Journal-World. All rights reserved. This material may not be published, broadcast, rewritten or redistributed. We strive to uphold our values for every story published.