Paul Davis is the leader of the Democrats in the Kansas House, but the Lawrence legislator says his proudest moments in the Statehouse have been when he has helped produce bi-partisan coalitions.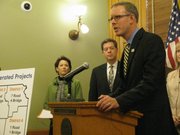 "Throughout my career, I have been able to bring Republicans and Democrats together and resolve issues," Davis said.
Davis would need that talent if he wants to be called Governor Davis.
Many have urged him to run against Gov. Sam Brownback, a Republican, and Davis' name is always cited in short lists.
The 2014 election is 15 months away, and for Democrats to mount a credible challenge, the time to get a candidate's name before the general public is soon.
Davis, however, declines to say whether he will run for governor or fill out a governor-lieutenant governor ticket.
"We're going to see a Democratic candidate emerge in the fairly near future," he said.
Running against the wind
The past two election cycles haven't been kind to Democrats.
Several years ago, Kansas was a red state with dash of blue, but it since has ripened to beet red.
Republicans hold all statewide elected offices and congressional seats.
In the Kansas Legislature, Republicans outnumber Democrats 32-8 in the Senate and 92-33 in the House. And moderate Republicans, those who supported increases in public school funding and tax increases to avoid crushing budget cuts during the Great Recession, are an endangered species.
Although polls show Brownback has low job-approval ratings, the political landscape of Kansas puts him in a good position for his re-election campaign. He is well-known and well-funded.
But Davis said Brownback and his conservative allies in the Legislature have overreached.
"I am certainly dissatisfied with the Brownback agenda, like I think many Kansans are. I would like to see a change in the governor's office," Davis said.
Since Brownback took office in January 2011, Davis and Senate Minority Leader Anthony Hensley of Topeka have been riding point in making the case against Brownback, a former U.S. Senator who returned to Kansas and easily won election as governor.
Tax policy assailed
During the past three legislative sessions, Davis and Hensley have held numerous news conferences, many of which have focused on Brownback's tax policies.
Brownback has pushed for and signed into law lower income tax rates, elimination of income taxes for nearly 200,000 business owners, removal of and lowering of deductions designed to help low- and middle-income Kansans, and, in the recent session, a sales tax increase to offset some of the lost tax revenue.
Brownback has said the tax changes will improve the economy. Critics say the changes increase the tax burden on the poor while benefitting the wealthy and will lead to budget shortfalls that will hurt schools and social services.
"There is a good deal of dissatisfaction from a number of different angles," Davis said.
Democrats may have a tough time making their argument, said Washburn University Political Science Professor Mark Peterson.
"The real key is if somebody can really lay it out there that we have sacrificed our quality education, and reduced services to the neediest of Kansans, turned a blind eye to the inevitability of the national health care system, and we have nothing to show in terms of economic growth.
"Absent the ability to make those arguments, I see the power of incumbency and the solidarity of the political system that Sam has put in place will carry the day," Peterson said.
Davis would need moderate Republicans
As far as a Davis candidacy, Peterson said while the minority leader may be known in northeast Kansas, he's probably not too well known in Wichita and western Kansas.
"The real prospect of defeating Brownback comes down to whether the moderate Republicans can create an insurgency," he said.
Several times in his legislative career, Davis, an attorney, has helped put together groups of moderate Republicans and Democrats that passed major legislation.
In 2010, Democrats and moderate Republicans composed a state budget after House GOP leaders couldn't muster enough votes for their budget proposal.
But Davis was also minority leader when House Democrats lost a record 16 seats in the 2010 election. Davis said he thinks that had more to do with Kansans angry at President Barack Obama.
Davis said he is proud of the fact that House Democrats held their own in 2012 and he predicted they will pick up seats in 2014.
Davis interested in politics at an early age
Davis, 41, is married and has a 3 1/2-year-old daughter. His wife, Stephanie, works as a psychologist, who specializes in the trauma treatment of homeless veterans.
Davis became minority leader in 2008 when the effects of the Great Recession were starting to be felt in the state budget.
He was first elected to the House in 2003 when then-state Rep. Troy Findley, D-Lawrence, went to work for then-Gov. Kathleen Sebelius. Democratic Party officials chose Davis for Findley's seat over Marci Francisco, who later was elected to the Kansas Senate.
Before becoming a legislator, Davis had worked for the Kansas Bar Association and for the Kansas Department of Insurance when Sebelius was insurance commissioner.
Davis said he got interested in politics as a student at Lawrence High School, and later served a legislative internship with Hensley. When he was growing up, politics were often discussed at the dinner table with his father, Ray, who was an associate professor at the Kansas University School of Public Affairs and Administration, and mother, Kathy, a second-grade teacher.
After graduating Lawrence High School, Davis went to KU and studied political science, but before he graduated he took time off from school to work on the failed gubernatorial campaign of Democrat Jim Slattery.
"That was a terrific experience," he said. "I really enjoyed the rush of a political campaign."
After Slattery's bid against Republican Bill Graves in 1994, Davis finished at KU and then went to law school at Washburn University.
Although Davis won't say whether he is running for governor, he dismisses the logic that a candidate from "liberal Lawrence" would have trouble getting votes in other parts of the state.
"I think that Lawrence is no different than other communities. People here are concerned about jobs and taxes and their public schools," he said.
Copyright 2018 The Lawrence Journal-World. All rights reserved. This material may not be published, broadcast, rewritten or redistributed. We strive to uphold our values for every story published.