Around town, it's known simply as "the Merc," a friendly source for natural and organic foods whose local roots and membership model attracts customers who consider themselves socially aware and environmentally conscious.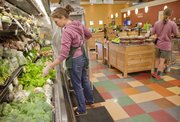 "What attracts me to the Community Mercantile is that I can find out where the produce and the meats are from," Jen Humphrey, one longtime shopper, said recently. "And that they support local agriculture and local producers."
But behind the success of Community Mercantile Co-op, as it's more formally known, is a business operation that has succeeded for nearly 40 years in a fiercely competitive and often rapidly changing marketplace where many other stores like it around the nation have failed.
Brian Phillips, who manages the Merc, attributes that success to one thing.
"It has everything to do with the support of the community," Phillips said. "We have really loyal customers."
Humble beginnings
The Merc began operations in 1974 as a more traditional, investor-owned specialty foods store on the Kansas University campus, according to Harry Kroeger, one of its founders. He said the original owners sold it to a group who restarted it under what was then a new kind of business model: a membership-based cooperative owned by its customers.
It has operated at several different locations since those early days, including on Massachusetts Street downtown. In 2001, the Merc moved into its current location at Ninth and Iowa, in a building that had previously been Rusty's IGA grocery story.
In the early days, people could join the co-op either by paying a fee or by volunteering to work there a few hours a week. Members paid slightly lower prices on most store items than the regular retail price.
But Phillips said state labor laws no longer allow the co-op to use free, or bartered labor. So now, he said, for a one-time $75 fee, members receive store discounts and are part-owners of the business, allowing them to vote for seats on the board of directors, or even run for those positions.
According to a recent University of Wisconsin research project, customer-owned food co-ops like the Merc have been around in the United States since the 1850s, but their popularity really began to rise in the late 1960s and early 1970s, around the time the Merc was getting started in Lawrence.
Researchers have suggested that their popularity tended to rise during periods of social and political unrest. Many of them eventually failed, however, due to dwindling member participation, poor management, lack of capital or competition from other retailers.
Changing marketplace
Competition is something the Merc has dealt with for many years.
"We had some rough times in late 90s when Wild Oats was in town," Phillips said, referring to a national natural foods chain that later merged with Whole Foods. "At one point, we were within one month of closing, but the community rallied around us."
Wild Oats closed its Lawrence store 1996. But in the years since, the popularity of natural and organic foods has grown so much that mainstream grocery stores such as Dillons and Hy-Vee now offer their own wider selections of them.
"We used to be the only place in town where you could buy an organic carrot," Phillips said. "We were kind of an early adopter."
Sheila Lowrie, spokeswoman for the Hutchinson-based Dillons Stores chain, which operates four stores in Lawrence, said the organic foods market is now much more than just a fad.
"From our perspective, we're seeing a long-term change," Lowrie said. "Many of our customers who purchase traditional items in our stores are now exploring organics. More and more, we're seeing customers choose the option of natural or organic products, if it's priced comparably."
According to the Organic Trade Association, total retail sales of organic food and beverages in the U.S. reached $26 billion in 2010, up from a mere $1 billion in 1990. Organics now account for about 4 percent of all food and beverage sales, including 11 percent of U.S. fruit and vegetable sales.
Loyal customers
Despite the growing competition, however, the Merc continues to survive, and today boasts about 6,700 members and annual sales of about $13.5 million.
Meanwhile, many of the Merc's loyal customers have found ways to embrace both kinds of grocery store models
Rashaad Spicer, a Lawrence native who has been going to the Merc, "ever since I was a little dude," said he appreciates the local feeling of the Merc and goes there to buy most of his organic foods.
But to buy other items, he said, "I'll go to Dillon's or Hy-Vee, whichever is closer."
Copyright 2018 The Lawrence Journal-World. All rights reserved. This material may not be published, broadcast, rewritten or redistributed. We strive to uphold our values for every story published.