The little diner was offering a different type of blue plate special, and best of all it didn't require Tom Allen to dig through the mud and muck of a creekbed to get it.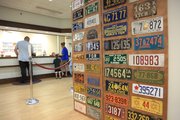 Allen, a rural Baldwin City resident, once dug through an old creekbed on the rumor that a fellow had tossed a couple of 1918 Kansas motorcycle license plates into the creek decades ago.
He found them. When you have 15,000 license plates, you tend to have some luck like that.
But the diner's plate was easier: it was a blue 1951 auto plate with the Douglas County stamp on it — and a license number of 1. A friend of Allen's in Florida had seen it hanging on the wall of a South Carolina diner.
All it took to add that plate to his collection was a call to the diner and a little bit of wheeling and dealing. The diner's owner was happy enough to give the plate away, but Allen wanted to give him something in return. He found out the man had been born in South Carolina in 1946, so Allen made a quick call to another friend, and just like that, Allen had a 1946 South Carolina license plate to trade.
The 1951 Kansas No. 1 plate is a nice conversation piece, but it isn't the prize of Allen's collection. In fact, oddly, a license plate may not be the prize of his collection at all. It seems Allen collects friends, too.
"At some point, this hobby became more about the people than the plates," Allen said.
•••
This year, the plates are kind of important, too, at least to the approximately 75 members of the Kansas License Plate Collectors Association. That's because 2013 is the 100th anniversary of the state of Kansas issuing license plates.
Allen and his fellow collectors figure the anniversary is a good chance to demonstrate that collecting license plates can be about more than accumulating flat pieces of tin. (They've also been made out of leather, porcelain, brass, fiberboard and even pricey copper.) The hobby, they say, also can be a way to learn about history.
Like, why the heck do 1975 Kansas license plates have the phrase "Wheat Centennial" on them? Well, geez, the plate just told you the answer. Hard red winter wheat was first introduced in Kansas in 1875, and if Kansas isn't going to celebrate that, who will?
A little tougher one is why 1941 Kansas license plates have the odd color combination of yellow and red. Well, 1941 marked the 400th anniversary of Francisco Vasquez de Coronado entering what is now Kansas. And red and yellow were the primary colors of the conquistador's Spanish flag.
There is nothing that says you have to confine your learning to Kansas, although Allen's collection primarily focuses here. He has the goal of collecting every type of license plate ever made in Kansas — meaning he doesn't just collect auto plates but also motorcycle, trailer, dealer and specialty plates.
He's learned plenty about other state's plates, as well. Like how Illinois once made plates out of fiberboard, and then had to warn pig farmers not to drive their vehicles into hog lots — because the hogs would eat the plates.
But what about those copper plates? They were made in Arizona during the Great Depression, on orders from the state's governor. It just so happens that the governor was pretty good friends with the owner of the largest copper company in the state.
Thus license plates, Allen said, also have helped teach him a truism in life.
"Money always talks," he said.
•••
License plates also can teach you that it was mighty cold in Lawrence on Jan. 2, 1951.
Allen began to figure that out when he got that 1951 Kansas No. 1 plate in the mail from the diner in South Carolina. It had an address sticker on the back of it: Wayne Cattlett of Blacksburg, Va. But Allen grew up in Douglas County — his dad owned Dean's Books in downtown Lawrence and Allen runs the same store in Topeka — so he knew the Cattlett name came from around here.
He wrote Cattlett, figuring that the license plate originally was his. Correct. But Allen was curious about something: How was it that Cattlett ended up being the first person in line on Jan. 2, 1951 to get those plates?
That was simple, Cattlett said. The courthouse's janitor was his neighbor. The janitor didn't have a car, and it was darn cold. So Cattlett gave him a ride so he could open up the courthouse that morning.
"That will get you the first spot in line," Allen said.
But there was something else on Allen's mind. He knew that back then license plates were issued in pairs. Whatever happened to the other No. 1? Was it available?
No dice there, Allen was told, even though Cattlett knew right where it was. When he was remodeling his house, he had used it to cover up an old opening in the floor where a heater vent had been. Then he covered it with carpet.
Even a man with as much luck as Allen can't win 'em all.
•••
Allen has had license plate luck for a good long time. He's been collecting for 40 years. He started when he was 10 years old, and went to his first convention of the Automobile License Plate Collectors Association when he was 11. He's been to every one of the group's conventions — it has about 3,000 members — since he got his driver's license.
As an 11-year old walking around the convention floor, he accumulated a lot of plates.
"When you are 11 and you see a plate you want, most of them will make you a pretty good deal," Allen said. "A lot of them were free or really cheap. I came home with a lot of plates."
It has kind of been that way ever since, Allen said. There are a lot of good people in this hobby, he said.
"There are two things that keep me in this hobby: The hunt and the people," he said.
And he thinks he'll stay in it for a while too. Yes, there's probably some piece of technology — a chip or something — that could easily replace the license plate. But Allen doesn't think that will happen.
People seem to love their pieces of tin too much. Just ask Kansas lawmakers how much flak they caught when they tried to remove the county designations from license plates in the 1980s. The public complained so much that officials abandoned the plan, even though the county sticker on your plate serves no purpose to law enforcement or the state in tracking your vehicle, Allen said.
So, Allen plans to keep collecting, perhaps even getting the 200 or so more plates he still needs to reach his goal of having every type of plate ever made in the state — even though the state keeps adding more.
But there is another reason why Allen can't quit: The surprises. Like with that 1951 Kansas No. 1 plate. A few years after he got hold of that plate, he received a package containing its twin. The accompanying letter simply said: "Got new carpet."
Tom Allen is lucky that way in plates and friends. Funny how that works: Folks who hunt for them often are.
— Each Sunday, Lawhorn's Lawrence focuses on the people, places or past of Lawrence and the surrounding area. If you have a story idea, send it to Chad at clawhorn@ljworld.com.
Copyright 2018 The Lawrence Journal-World. All rights reserved. This material may not be published, broadcast, rewritten or redistributed. We strive to uphold our values for every story published.