In explaining how auto-exposure works on point-and-shoot cameras (P&S;), I made a slight error in my last column.
I wrote that most cameras allow you to lock in auto-exposure by pressing halfway down on the shutter button. This is not entirely accurate.
Cameras do have a button to allow you to lock in auto-exposure, giving you control over what you consider to be critical content. In my experience these controls are often identified by initials AE-L, for auto-exposure lock. It's often a small button on the back of the camera, located in easy reach of your right-hand thumb.
When in tricky lighting situations, as reviewed in my last column, you point your camera meter at important subject matter, press the AE lock button, then reframe for your photograph. As long as the AE lock remains engaged, all subsequent photos will maintain the same metered exposure until deselected.
Auto-focus lock
With most cameras, pressing down halfway on the shutter button locks down your focus point. This focus point is usually an identifiable circle or square in the center of the frame.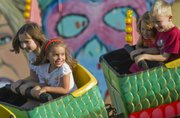 When you direct your camera at a subject, your camera uses that area for its point of focus. This works well for situations where subject content overlaps this centered focus area.
The problem is that many photos don't look good with subjects centered or when you can't center a subject. Learning to use auto-focus lock can lead to more control over your point of focus and provide more creative framing techniques.
Here are two examples using auto-focus locking techniques:
You want a photograph of someone at the rim of the Grand Canyon.
Rather than placing them in the center of the frame, put them to the side to include a better view of the canyon. Aim your center focus point at the subject — press halfway down on the shutter button, then reframe to your liking.
As long as you keep your shutter-button half pressed, your focus point remains locked. In well-lit situations, the cameras depth of field should maintain enough focus on the background to be easily recognizable.
You want to capture a runner crossing a finish line.
To increase your chance of success, lock your auto-focus point on something near or at the finish line. When the runner reaches that area you are ready to take your photograph.
If what you select to lock focus on is your primary subject, it is most likely your most important subject for correct exposure.
Using both a finger on the half-pressed shutter button for auto-focus locking and a thumb on the auto-exposure lock button might seem cumbersome, but with a little practice this technique can provide you with much more creative control over your camera.
Copyright 2017 The Lawrence Journal-World. All rights reserved. This material may not be published, broadcast, rewritten or redistributed. We strive to uphold our values for every story published.