On a warm, mid-July day in 1988, 6-year-old Julie Carden stood by her family's horse trailer, waiting alongside her pony, Princess, for Eudora's CPA parade to begin. Dressed as a miniature cowgirl in hat and boots, Carden rode Princess in the procession that day.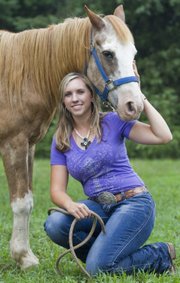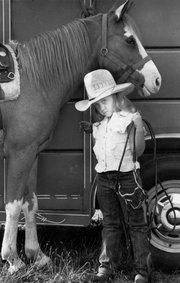 As she relives it 25 years later, Carden, now 31, remembers feeling confused about why a Lawrence Journal-World photographer was snapping her picture.
"That's why I have that look on my face," she said, laughing.
A poster-sized copy of that black-and-white photo now hangs in Carden's childhood home near Linwood, above the dozens of halters, trophies and ribbons that she has picked up through the years.
The image not only captured the start of Carden's long and successful fair and rodeo career, but it signified the beginning of a relationship between a little girl and her pony, a bond that set Carden on her path in life.
"Princess was really the start of my whole horse career," Carden said. "Because of her, I was able to continue doing what I love."
Learning to ride
Carden received the pony as a surprise from her dad, Larry, when she was 4. At the time, Princess was a 12-year-old hunter/jumper pony with fluid movements and a good jumping style. A family friend offered Princess to Larry when his children tired of riding the pony.
Princess spent the next several years teaching Carden how to be a cowgirl. Before she began competing in the Douglas County Fair at age 7, Carden would sneak out to the stables and ride Princess bareback.
"Before I could even saddle her I would get in trouble all the time for riding her in the yard," Carden said. "I rode her so much as a kid that she wants me to leave her alone now. If I get a halter out around her, she runs the other way."
Once she was old enough to join the Eudora 4-H club, Carden showed Princess in the horse show competition at the fair. As she got older, the duo began to compete in barrel racing, pole bending and team pinning. In 1996, Carden was named the fair queen.
After her eligibility with 4-H was up, Carden stopped riding Princess. She was getting too big for the small Welsh pony, she said, and her larger competitions required large horses.
The summer before leaving to attend Kansas State University, Carden won the Abdallah Shrine Rodeo, a competition for 16- to 21-year-olds that requires poise, personality, horsemanship and vast knowledge of the sport. She spent that year acting as an ambassador for the Shriners, and for rodeo as a whole.
Carden went on to compete in college rodeo competitions, then in the American Professional Rodeo Association.
Now, she continues to train horses and compete in barrel racing, breakaway roping and team roping. She judges horse shows near her new home in Leroy, and is an agricultural science teacher and Future Farmers of America adviser at Southern Coffee County High School.
"I stay heavily involved in our county fair and try to really support youth to stay involved in agriculture," Carden said.
Though her schedule is busy, especially during the summer months, Carden returns home to Linwood to visit her aging pony about once a month.
A winning attitude
In her heyday, Princess was a winner. She was awarded the title of champion pony for two consecutive years at the Douglas County Fair, and was shown at the fair for a total of 13 summers.
Most importantly, Princess acted as a companion to the children who rode her.
"She's taught several kids how to ride in her lifetime," Carden said.
Now, Princess is 38 years old. She is retired, and spends her days in the Cardens' pasture, swatting at flies and bossing around the donkey and horse that live with her.

She can still see, hear, buck and frolic, but does need her food mashed up because of her missing teeth.
Carden stood next to Princess on Tuesday morning, stroking her muzzle and relaying memories the two shared in their younger days. Now, the picture of them together is a bit different, as Carden towers over her pony.
But there is one thing that has not changed with time.
"She's pretty feisty," Carden said. "If I had one word to describe her, it would be 'diva.' She thinks she is actually the queen around here, not the princess."
Debbie Carden, Julie's stepmother, said the pony's personality is what made her a good companion to that little girl in the photo, and to the adult Julie now.
"She has a lot of personality," Debbie said of Princess. "All of the great horses have amazing personalities, and so does her rider. When you see that 1988 picture of that 6-year-old, you see the attitude flashing on her face."
Copyright 2018 The Lawrence Journal-World. All rights reserved. This material may not be published, broadcast, rewritten or redistributed. We strive to uphold our values for every story published.