Lawrence crime, fire, courts coverage
Have a tip?
Contact Journal-World reporter Caitlin Doornbos: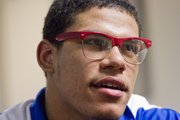 Former Kansas University football player Chris Martin is facing a November trial in a robbery case stemming from a May home invasion in southwest Lawrence.
Martin appeared in Douglas County District Court today, where his trial was set for Nov. 25. He faces one count of aggravated robbery in connection with a May 13 robbery of cash and marijuana at gunpoint from a man at a home in the 1900 block of Camelback Drive. Also charged in the case were Jeremiah Letrell Edwards, 21, of Garland, Texas, and Joshua Edwards, 28, of Lawrence.
Joshua Edwards pleaded no contest in June to one count of conspiracy to commit aggravated robbery and is scheduled for sentencing on Tuesday. Jeremiah Edwards is scheduled to appear in court again on Aug. 15.
Martin was dismissed from the football program on June 17. The Kansas football program recruited Martin last year, and the 6-foot-5, 260-pound junior college transfer came to Kansas as a four-star defensive end. He never played a game here.
If convicted of aggravated robbery, Martin could face a prison sentence of between 55 months and 20 years, depending on his criminal history. Douglas County prosecutors have said Martin had no criminal record. A 2011 citation for marijuana possession in Florida was resolved by a diversion agreement. An attorney representing Martin has said he was in plea negotiations with Douglas County prosecutors.
Martin and Jeremiah Edwards are free on a $35,000 bond. Joshua Edwards was released on a $5,000 bond pending his sentencing hearing.
Copyright 2018 The Lawrence Journal-World. All rights reserved. This material may not be published, broadcast, rewritten or redistributed. We strive to uphold our values for every story published.