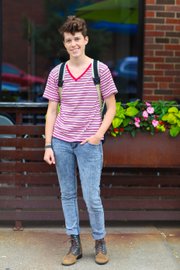 Name: Laura Stucky
Age: 23
Relationship status: Single
Hometown: Overland Park
Time in Lawrence: Just visiting
Occupation: I work for The Kansas City Urban Youth Center. I'm also starting my own company called New City that provides accounting services.
Dream job: My dream for New City is to facilitate networking among small-business owners to help them grow, which would ultimately help build communities.
What were you doing when scouted? Getting ready to eat at the Burger Stand.
Describe your style: Laid back. I wear what I feel like that day. I go for things that I like. I don't care where it's from. I go for the look and the feeling.

Fashion trends you love: I don't really know much about what is trendy but I like gender-neutral items. No matter whether they're a girl or a boy, they just wear what they like and it feels good.
Fashion trends you hate: I guess I dislike things where people just buy something for the brand name on the item.
Fashion influences: I just hit thrift stores in my free time. I buy individual pieces that can be versatile so that I can wear it up or down and that can go with many different things.

What would you like to see more of in Lawrence? I would love to see more people that feel comfortable in what they're wearing.
Less of? People that can be identified as a particular group because of the style of clothing they wear.
Tattoos or piercings: My favorite one is a sunrise that stands for that every day is a new day and that no matter what happens the sun comes up and there's hope, new beginnings and opportunities, no matter what has happened today or in the past.
Whom do people say you look like? I guess it's Hilary Swank because of my jaw line. I don't know.
What type of music do you unwind to? Some jazz music and some blues.
Tell us a secret: I really don't keep secrets. I can't think of anything. I like living and being open!
Copyright 2018 The Lawrence Journal-World. All rights reserved. This material may not be published, broadcast, rewritten or redistributed. We strive to uphold our values for every story published.