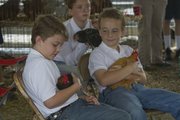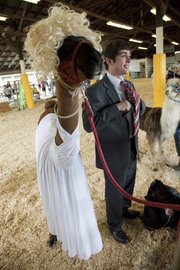 Two boys in identical blue jeans and white collared shirts sat in front-row chairs in the poultry barn Wednesday morning, holding onto their chickens and waiting nervously for their turn in the poultry showmanship contest.
The Langston brothers, 9-year-old Keiron and 10-year-old Quincy, members of the Kanwaka 4-H Club, were competing in the Douglas County Fair for the first time.
Keiron went first. He held his Old English Game Hen, appropriately named Chicken Little, and pointed out the bird's features. The two judges asked him a few questions before he demonstrated how to properly place Chicken Little into a cage and take him back out again.
Quincy followed, and went through a similar routine with his Buff Cochin named Prince.
"You're telling them about the parts and what you feed them and what kind of chicken it is," Quincy explained.
And what was the hardest part of showing a chicken?
"We had to study a lot and we had to find the clothes they wanted us to wear," Keiron said.
In the contest, 4-H members must demonstrate their ability to carry and examine their birds. Appearance, handling and knowledge of poultry are taken into consideration by the judges.
"It's based on level. Kids in level one just have to know the basics: the eyes, beak, comb, feet and things like that," said contest superintendent Charlie Garzillo. "But as you get into level four, they have to know things like the digestive system. There are so many different things to learn; it makes it pretty exciting."
Outfitted for success
As soon as the Langston brothers had finished with their chickens, they changed into more casual clothing and ran to the nearby judging arena, where the llama show was in full swing.

Six 4-H members of all different ages took turns walking their llamas through the various events: showmanship, an obstacle course, and the costume contest, to name a few.
Mason Kelso, a 17-year-old member of the Eudora 4-H Club, was a clear winner in most of the events. He and his llama, Spirit, drew the most applause in the costume contest.
The pair strode through the arena to the tune of Marilyn Monroe singing "Happy Birthday to You" to President John F. Kennedy. Kelso, dressed as JFK, wore a suit, complete with lipstick smudged on the collar. Spirit, as Marilyn, donned a blonde wig and white dress.
"I started training in March, and I decided on the costume in May," Kelso said. "The Marilyn Monroe one was fairly cheap, so I ordered and modified it."
This was Kelso's 11th year in the fair and his third year showing a llama. His trick to success is fairly simple: practice.
"They want to see that there is a bond, a trust between you and your llama," he said. "They want to see that you've worked with your llama, and that you both know what you're doing."
The shows continue Thursday with rabbits at 8 a.m. and sheep at 6 p.m.
Copyright 2018 The Lawrence Journal-World. All rights reserved. This material may not be published, broadcast, rewritten or redistributed. We strive to uphold our values for every story published.