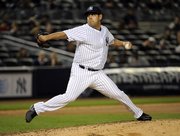 Baker University baseball coach Phil Hannon was in his car, on his way out of Raymore-Peculiar High in Peculiar, Mo., where he had been recruiting, when his cell phone rang. It was one of his former catchers letting the coach know to hightail it to the Buffalo Wild Wings in Belton, Mo., where the lefty he used to catch was throwing on the big screen for the New York Yankees.
Merely by driving to the high school, Hannon put in more recruiting work than he did to land the former Baker pitcher who made his major-league debut Monday night in Yankee Stadium.
Left-hander Vidal Nuno, 25, came to Baker University from Southwestern Community College on the coattails of his juco teammate, shortstop Travis McCleary.
Hannon remembered a call he received from McCleary this way: "He said, 'Hey, coach, I've got a left-handed pitcher who wants to come with me. Is it OK if he comes with me?' I said, 'He's left-handed? OK.' And he said, 'Coach, you don't understand. He was named the best pitcher in our conference.' He just followed the shortstop to Baker. Came out sight unseen."
Driven by family concerns, McClearly moved back to California after a year, but Nuno stayed for his second year at Baker, where he went 15-7 in two seasons and was named Heart of America Conference pitcher of the year as a junior in 2008. Cleveland Indians scout Steve Abney, at the behest of Hannon, saw Nuno pitch a game at Baker and was impressed enough with his pinpoint control that he recommended the Indians draft him. Nuno was taken in the 48th round of the 2009 draft. The Indians released him out of spring training in 2011, but Nuno couldn't take a hint and persevered. Next stop for the lefty with great control: the independent league Pennsylvania Wild Things.
A Yankee scout liked what he saw of Nuno for the Wild Things, signed him, and Nuno spent the rest of the 2011 season in Class A and made it to Double A in 2012. Nuno won an award as the best rookie this spring training for the Yankees and was assigned to Triple A Scranton/Wilkes-Barre, where he went 2-0 with a 1.54 ERA in four starts, earning a promotion to the most tradition-rich franchise in professional sports.
Thanks to Michael Meyer, Nuno's catcher at Baker, Hannon was able to see the final three outs of Nuno's three shutout innings in a 9-1 loss to the Houston Astros. Hannon joined Meyer and former Wildcats right-hander Ben Cunningham at Buffalo Wild Wings.
"We all smiled ear-to-ear watching him compete," Hannon said.
Nuno became the second Baker baseball player to play in the majors, 100 years after Zip Zabel (12-14 in three seasons with the Chicago Cubs) of Wetmore made his big-league debut. The Yankees lost, but Baker baseball was a big-time winner Monday night.
Copyright 2018 The Lawrence Journal-World. All rights reserved. This material may not be published, broadcast, rewritten or redistributed. We strive to uphold our values for every story published.