Douglas County commissioners will be asked Wednesday to approve grants for local heritage conservation projects, including a $125,000 grant to begin restoration of the Lawrence Turnhalle building at 900 Rhode Island St.
The Turnhalle - German for gymnasium, or athletics hall - was built in 1869 and for many years served as the social hub of Lawrence's German-American community. The building is listed on the National Register of Historic Places and is considered possibly the oldest standing community building in Lawrence.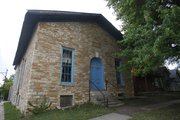 The Lawrence Preservation Alliance bought the Turnhalle building in September and is working to restore the structure. The group plans to place a permanent preservation easement on the building and eventually transfer ownership to another organization or private buyer who will maintain the building.
The grant would fund repairs to the roof and the frame of the building. It is the largest of six grants being recommended for this year's allocation by the county's Heritage Conservation Council.
The council also is recommending five smaller, "target" grants:
• $72,000 to the Kansas University Center for Research to fund forest conservation in the Baldwin Woods.
• $29,850 for roof repairs and painting of Clearfield School, a former one-room schoolhouse in Palmyra Township in southeast Douglas County.
• $24,400 for the Lawrence Arts Center to support the "refashioning" of its annual production of "A Kansas Nutcracker."
•$20,000 to the Douglas County Historical Society for partial funding of repairs and improvements to the Watkins National Bank Building, which houses the Watkins Museum.
• $5,000 to the Libuse Kriz-Fiorito Historical Foundation for signage and printed literature to raise community awareness for the Castle Tea Room in Lawrence.
The county commission will take up the grant recommendations when it meets at 6:35 p.m. in the county courthouse.
In other business, commissioners will consider a special event permit for a concert slated for June 22 near Baldwin City to promote RockRoad Pursuits, a private enterprise operated by Peyton Warwick.
Commissioners will also consider soliciting bids for a road project on East 1750 Road, from Baldwin City to Route 12.
Copyright 2018 The Lawrence Journal-World. All rights reserved. This material may not be published, broadcast, rewritten or redistributed. We strive to uphold our values for every story published.