In the wake of the new century, Isbelia Sanquinetti, a Venezuelan-Lawrence resident, was like many other foreign women. She moved to the U.S. with her husband and immersed herself in a new culture and a new kind of people. She knew little about her surroundings and even less about the English language.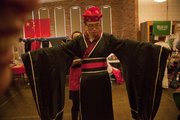 By 2003, she had picked up enough phrases to start up her own children's clothing store, called Isbella Sangui. Shortly after it opened, Sanquinetti realized just how little English she knew, which made it a struggle to communicate with her customers.
"The beginning was very, very hard for me, because I realized that I didn't speak English at all," Sanquinetti said. "A lady came into the store and would ask me for things, and I said, 'No I don't have that.' The lady started walking around the store and said, 'Yes you do have that.'"
Luckily, in that same year, a woman introduced Sanquinetti to Small World, a nonprofit international school for women and children located at First Presbyterian Church, 2415 Clinton Parkway. She has been taking classes there ever since.
Small World is not to be confused with a preschool, said Kathy Mulinazzi, the school's director. "It's a school that teaches women English and helps women out of depression by providing a community," she said.
Last week, many of the women, children and volunteers involved with Small World gathered at the church to celebrate the school's 45th anniversary. Altogether, the school has an enrollment of about 140 women and about 40 children. The international food, fun and dance party was open only to current and former students and staff members.
The international school was founded in 1968 to provide a place for foreign women to learn English and socialize while their husbands were at school or work. It has remained a "no men allowed" institution because multiple cultures are represented at the school, and some have segregation rules.

"It's basically to give these women a place to make friends and to learn about Lawrence and America," Mulinazzi said.
Along with learning English, students are exposed to American culture. For example, during holidays, the students dive into different American traditions. On Halloween, students learn how to carve pumpkins; for Thanksgiving, the staff puts on a big dinner and the students bring in dishes from their countries.
By surrounding themselves with people from all over the world, the women also have the chance to make unique friends. About once a month, a woman will host a social night and guests bring foods that reflect their homelands.
Small World officially meets for class every Tuesday and Thursday from 9 a.m. to 11 a.m. at the church. The tuition for adults is $15 for a semester or $25 for a year; children's classes are $5 for a semester.
The school is always accepting volunteers to teach classes. Small World can be reached at (785) 841-3635 or by email at smallworld@sunflower.com.
Every year, the Applied English Center at Kansas University hosts workshops for volunteers so that they can learn how to effectively teach English speaking, reading, grammar and more.
"Without Small World, some of these women would remain isolated and lonely because of their inability to communicate with others," Mark Algren, a director at the center said. "The students, all women, have a place to learn English for communication, which allows them to carry out daily tasks like going shopping, talking with merchants in town, meeting with teachers and school officials, and helping their children with homework."
Copyright 2018 The Lawrence Journal-World. All rights reserved. This material may not be published, broadcast, rewritten or redistributed. We strive to uphold our values for every story published.