I've always been drawn to stylish workout clothes that I can wear to the gym because I love to exercise.
Whether it's an outdoor power walk, a long run or a quick 30 minutes at the gym, workout clothes are an essential part of my wardrobe because I wear them often.
Comfort is key, but naturally I always keep fashion in the back of my mind when searching for the perfect outfit. Exercise clothes come in all shapes, sizes, textures and colors, so it can be daunting trying to find the best pieces to mix and match for your workouts.
Spandex
I used to not be a fan of wearing spandex and form-fitting pieces to the gym, but after trying them out, I would never go back.
I love how they are flexible and fitted, and there's no loose material flying around when you're trying to break a sweat.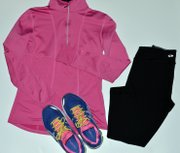 I prefer capri-length spandex pants, but when I go on an outdoor run in the middle of December, I have a pair of Under Armour full-length spandex pants to shield myself from the bitter cold. Target and Foot Locker are both my go-to retailers for spandex pieces.
Tops
I prefer a comfortable tank top layered underneath a lightweight jacket or pullover piece.
Layering is important when you're working out because you can always shed a layer if needed. Target has always had an abundance of lightweight cotton tank tops at affordable prices, which is always a plus because I tend to buy them in bulk.
If you want to invest in any workout piece, I would suggest a nice pullover that you can wear for spontaneous outdoor workouts or pair with shorts for a quick gym stop.
I splurged on my pink pullover top from Lady Foot Locker a few years ago, and it has become my favorite piece for workouts. It has a thin fleece lining, so I don't get too hot when working out.
Shoes
Shoes are probably the most important piece to your stylish workout gear.
I have read from many workout sites that you are technically supposed to change your shoes every six months, but that's only if you run long distances on a regular basis. I usually change mine about every year, or in some cases when they are about to fall apart. I would not recommend that.
I go for a lot of color when choosing my shoes. I have a pair of Asics that, again, I bought at Foot Locker. I've been known to wear 'flashy' sneakers, and my motto is the brighter the better. Brands have really integrated fashion into workout gear, and more and more creative shoes are hitting the stores.
I don't really worry about matching my workout ensembles because I don't think it's necessary. Like I mentioned earlier, comfort is always key to a successful workout, so I take advantage of having fun and don't worry about matching everything perfectly.
Copyright 2018 The Lawrence Journal-World. All rights reserved. This material may not be published, broadcast, rewritten or redistributed. We strive to uphold our values for every story published.