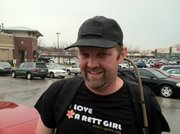 It's called a GoRuck Challenge and it's as close to military special-operations training as a civilian can experience.
A band of 30, each wearing 30 pounds of bricks and other supplies, forge up hills and through streams, sometimes carrying another 30 pounds of bricks. They do it for eight to 10 hours in the dead of night and cover 15 to 20 miles. Along the way, they do various forms of intense physical training, such as bear crawls and crab walks. Six men at a time will carry a log for a designated distance.
It's supposed to promote teamwork, brotherly love. Lawrence attorney Dan Covington is scheduled to partake in his first GoRuck Challenge beginning at 10 p.m. Saturday in Kansas City, Mo. His motivation is a more deeply rooted brotherly love.
Dan and Stephanie Covington have two children: Drew, 12, and Holly, 9. (Dan said Drew was named so because when he was in his mother's tummy he started kicking furiously in Allen Fieldhouse the instant Drew Gooden's name was called during pregame introductions.)
Dan's brother and sister-in-law have three children in Vermillion, S.D. Their third, daughter, Martilee, 9, has Rett syndrome, a rare form of autism that affects almost exclusively girls. Martilee wears braces on her legs and "needs help" to walk. Her communication is limited to, "smiling and blinking, and that's about it," her uncle said.
Covington hopes that the attention he receives in participating in the grueling all-night challenge will raise funds for Rett syndrome research, which he said, "is going well."
He initially set a goal of $3,000, but since has trimmed it to $2,000 because he has come short of what he expected. Those interested in donating can do so by visiting www.razoo.com/story/Goruck-Beat-Rett.
Covington recruited friend Jared Steinshouer of Baldwin City to join him.
"He'll be the one picking me up repeatedly," Covington said.
Figuring he had better get pointers from veterans of the challenge, Covington drove to Kansas City to meet some Thursday night and received valuable tips, such as: 1. Put the bricks toward the top of the backpack so they don't slam into your lower back; 2. Pack twice as many carbohydrates than he had planned because he can be expected to burn from 12,000 to 15,000 calories; 3. Take some Imodium.
A native of Almena, Covington was in the Army Reserve in high school, graduated from Fort Hays State, spent four years in the Navy in Coronado, Calif., and graduated from KU Law.
He said he underwent, "mild combat training," in the Army Reserve, but that Navy training was "more of an office deal." He expects this will be the most grueling experience of his life. Envisioning the numbers growing larger on the donation tracker will ease his pain.
Copyright 2018 The Lawrence Journal-World. All rights reserved. This material may not be published, broadcast, rewritten or redistributed. We strive to uphold our values for every story published.