A 65-year-old former state legislator badly injured in a head-on collision last week remains in Kansas University Hospital as doctors treat him for several broken bones.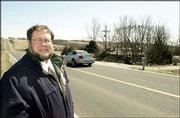 John Solbach, a former lawmaker and Lawrence attorney, is expected to recover after the all-terrain vehicle he was driving collided with a car about 9 a.m. April 18 on a county road in western Douglas County, said his son, Bart Solbach, Thursday. Doctors performed surgery on Solbach Tuesday, the most recent of several operations to repair broken bones that include his pelvis, hip, clavicle, arm and leg.
"He should be all right," Bart Solbach said.
Solbach was driving a Kawasaki Mule ATV west on Stull Road when he entered the eastbound lane to make a left turn and collided with a car traveling eastbound. Solbach was ejected from the ATV and transported to the hospital in critical condition, according to the Douglas County Sheriff's Office report.
Solbach was mentally alert after the accident, but will remain in the hospital for some time, his wife, Pat, said last week.
The sheriff's office was still investigating the accident Thursday and had not issued any citations in connection with it, said Lt. Steve Lewis, a sheriff's office spokesman. A passenger in the car that struck Solbach's ATV was treated for minor injuries following the accident.
Copyright 2018 The Lawrence Journal-World. All rights reserved. This material may not be published, broadcast, rewritten or redistributed. We strive to uphold our values for every story published.