Linda Lassen tried to bring peace and justice to the lives of the less fortunate during her more than 40 years at a local social-service agency. The staff at the Lawrence Community Shelter do the same every day.
So it's fitting that both would be honored with the 2013 Tom and Anne Moore Peace and Justice Award. The Lawrence Coalition for Peace and Justice will present them with the awards during a 7 p.m. ceremony tonight at Unity Church of Lawrence, 900 Madeline Lane. The event will also feature a program by Kansas City-Mo.-based Aim4Peace on "curing violence."
Lassen started volunteering at Penn House, 1035 Pennsylvania St., in 1969, helping low-income residents meet basic needs like food, clothing and rent. A single mom, she knew how necessary these types of agencies were.
For more than four decades, she acted as an ear to bend or shoulder to cry on. She held stress-management meetings, and gave needy families back-to-school supplies and Christmas gifts. She helped people overcome the embarrassment of asking for assistance; she still remembers the little old lady who, after receiving aid for her heating bill, demanded to pay it back, saying, "Honey, never in my years have I asked for anything!"
Lassen described Penn House, which later became Ballard Community Services, as a "home away from home for people" — including her. Over time, she became an East Lawrence fixture.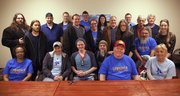 Unfortunately, she was laid off from the center in January, a victim of budget cuts.
"I would rather still be at Penn House. It's really, really hard for me not to be there," she said in a recent interview. "But it's changed. There's no funds."
Lassen misses her clients, many of whom she developed close, personal relationships with; they would often visit her years later, their lives stable — no small thanks to her. She knows there's still an immense demand for social services.
"The way the economy is, there's more people out there who need help now than when I first started," Lassen said.
The staff at the Lawrence Community Shelter do the type of nitty-gritty work that often goes unrecognized, said their executive director, Loring Henderson. That's why it's so special they're being recognized with the Tom and Anne More Peace and Justice Award.
Henderson called his employees "a group of soft-hearted, easy-going sweethearts."
"They've been dedicated for years at doing some of the hardest work you can imagine to help better the community," he said. "Working in shelters is not a profession where there are a lot of awards. It's not like in sports, where you get trophies all the time."
Copyright 2018 The Lawrence Journal-World. All rights reserved. This material may not be published, broadcast, rewritten or redistributed. We strive to uphold our values for every story published.