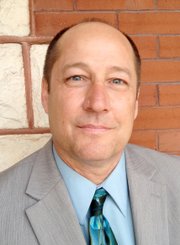 When Brad Anderson interviewed for his job, he looked for assurance that he and his department would be given the same importance as Salina's other city departments, such as police and public works.
Confident he wouldn't be regarded simply as an "add-on" or "icing on the cake," Anderson took the job and has been at it two years.
What's Anderson's department? The arts.
Anderson is executive director of Salina's Arts and Humanities Department, where he oversees 14 employees and a $1.1 million budget to execute the department's mission of promoting public awareness of and interest in the artistic and cultural development of the city. Salina established its Arts and Humanities Commission in 1966.
"The arts are valued as an important part of the city," Anderson said. "I'm at the same table as all of those other directors."
About 45 people turned out to hear Anderson speak Thursday night at the Union Pacific Depot. The Lawrence Arts Roundtable planned the event with the idea that learning more about Salina's organization of the arts could spark ideas Lawrence could use.
A position like his is rare in Kansas, Anderson said. He said he knew of just one similar employee, a county arts administrator in Wichita.
Anderson said that while every community is unique, Salina — with a population of about 50,000 — would not be able to achieve what it has without city staffing, especially when it comes to organizing a festival the size and quality of Salina's Smoky Hill River Festival.
Art is the festival's main focus — there's a fine art show, craft show, artist demonstrations and hands-on art activities for children — and a big seller. Anderson said attendees bought $450,000 worth of art in three days during last year's festival.
Some other things Salina's Arts and Humanities Department does:
• Maintains an online directory of local artists and cultural organizations, as well as an online calendar of arts events, which the department promotes through weekly email blasts.
• Converges a monthly meeting of the city's Cultural Arts Roundtable, a group of directors from all of the city's arts organizations.
• Coordinates and implements Salina's long-range cultural plan.
• Helps administer an arts education program in public schools. Anderson said the school district gives his department $15,000 a year for this.
• Measures and tracks arts impact data, such as attendance and ticket sales.
• Works with the media. Anderson said he contributes a column to the Salina Journal a couple times a year and that his staff is readily available for media requests.
"We don't think of it as a place just to get free stuff, we also buy ads," he said. "The media are very important partners for us to share that information."
The Arts and Humanities Department is not without foes in Salina, Anderson said. It's been the subject of nasty letters to the editor and social media messages by people who disagree about the importance of the arts.
Anderson said he's aware not everyone will like what his department does. Instead of focusing on converting those people, he said, it's more effective to build support from the inside out. His strategy is to cultivate deep roots with the most loyal arts supporters, then work out in "concentric circles" to get more people on board.
Anderson said a successful arts organization would look different in every city.
"Each community must find its own path and capitalize on its own assets," he said.
Copyright 2018 The Lawrence Journal-World. All rights reserved. This material may not be published, broadcast, rewritten or redistributed. We strive to uphold our values for every story published.