Photo Gallery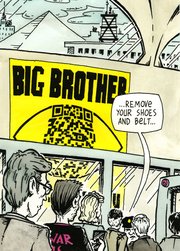 Banned Books Week Trading Card Project
The Lawrence Public Library is celebrating national Banned Books Week 2012 in a new way. The library invited artists to depict their favorite banned book and chose seven designs to feature on trading cards, to be given out to the public throughout the week.
Banned books, original art and collectible trading cards came together last fall and hooked book lovers around the world.
The Lawrence Public Library's banned books trading card project also hooked what's considered the nation's most prestigious award for library public relations and marketing.
The American Library Association announced this week that the Lawrence Public Library was one of eight libraries nationwide to win a 2013 John Cotton Dana Award. The award, which has been bestowed continually since 1946, comes with a $10,000 award and plaque.
"We were able to engage artists' imaginations, so it was something that was really community based," library director Brad Allen said of Lawrence's project. "We wanted to do something that was unique that highlighted banned books in a different way."
Lawrence stood out in a field of "outstanding" entries from libraries nationwide, award committee chairwoman Kim Terry said in a news release.
"In these challenging economic times, it's amazing how wonderfully gifted libraries are at leveraging what they have to produce effective marketing campaigns," she said.
To celebrate Banned Books Week 2012, the library issued a call for artists to submit work depicting their favorite banned books. Winning artworks were reproduced on colorful trading cards printed with the reason for banning each book on the back.
Word spread fast. The Associated Press, the Huffington Post and a number of blogs picked up the story within days, and requests for cards started rolling in.
The library gave free packs to locals who picked them up in person and quickly ordered a second printing of cards, which were sold online and shipped to buyers in every state and foreign countries including Canada, Australia and England, Allen said.
"We had no intent to sell them until it kind of went viral on the Internet," Allen said. Cards are still available for purchase through the library's website, www.lawrence.lib.ks.us.
The trading card project was the brainchild of library marketing director Susan Brown. Although Brown is leaving next month to become library director for the city of Chapel Hill, N.C., the library hopes to continue the banned books trading card project again this year, Allen said.
Public relations efforts like the trading cards are important, Allen said, because they help raise awareness about what the library has to offer.
"Marketing is critical for what we do," Allen said. "I think that it's very important for us to really explain to people the resources that are available to them paid for with their tax dollars."
Copyright 2018 The Lawrence Journal-World. All rights reserved. This material may not be published, broadcast, rewritten or redistributed. We strive to uphold our values for every story published.