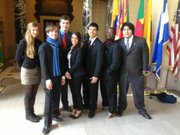 Contact KU and higher ed reporter Sara Shepherd
Have a tip or story idea?
---
More stories
Jorge Roberto Soberon Hernandez had a crisis on his hands.
The country of Venezuela had forced the grounding of a U.S. surveillance aircraft that had crossed into its airspace, and detained the Americans inside. The Venezuelan government refused to release them, making already-rocky relations between the nations even worse, and now Hernandez had to mediate between diplomatic delegations from the two countries.
One other detail: The "Venezuelan" delegates actually were American college students, from Drexel University in Philadelphia, and the "American" delegation actually was from a university in Caracas, Venezuela. And Hernandez, a Kansas University graduate student, was serving as secretary-general at a Model Organization of American States conference.
So the crisis wasn't real. But for Hernandez and seven other KU students who traveled to Washington late last month to engage in some serious mock diplomacy at the conference, it required some very real work.
"It's the hardest thing I've ever done," said Hernandez, who was elected at last year's conference to serve as leader this year.
This is the third year KU has sent a delegation to the MOAS event, which was held the last week of March. Students from universities all over the Western Hemisphere meet in Washington, part of the time at the headquarters of the real Organization of American States, and each school is assigned one of the 35 OAS member nations to represent. At the center is a fictitious but conceivable crisis for the student diplomats to solve — this year, the imaginary Venezuela-United States conflict.
This was the 13th annual edition of this conference. And this year, with a KU student at the helm and another one as part of a small group that hashed out a deal, the students actually solved the crisis—for the first time ever.
Overall, the KU students were tremendously successful even though the university is far newer to the event than many others, said their instructor, Jorge Soberon. And that was thanks to a group that cared deeply about what it was doing, he said.
"Being very much in love with this subject helps a lot," said Soberon, who is also Hernandez' father.
The other seven KU students served as the mock delegation from Mexico, which serves as a diplomatic bridge between the Americas. Their majors ranged from business to political science to Latin American studies, and they all were undergraduates, which is unusual, Soberon said.
Each is enrolled this semester in a course revolving around the conference, and they spent the preceding months learning and preparing. Soberon, a professor of ecology and evolutionary biology, spent 13 years working in Mexican diplomacy as head of the nation's Biodiversity Agency. The students also learned from other KU professors about international law and Mexican history, economy and politics. They had to know exactly what a Mexican diplomat would want and not want by the time the conference came.
"It's an exercise in being able to convince, to find middle grounds, to think fast on your toes," Soberon said.
The participants spent months crafting proposals to solve international problems, and when the conference came around they had to do whatever they could to make them pass. And a warm-and-fuzzy, let's-all-get-along attitude isn't going to get it done — students must represent their assigned countries' interests and follow strict diplomatic rules and regulations.
"It's not just saying, 'Hey, guys, sit down and talk and find a peaceful solution,' " Soberon said. "That is very easy to say."
But the students learned that diplomacy can also mean a little after-hours work. It might not hurt, after a 12-hour day spent in meetings, to treat a few delegates from other "nations" to dinner or, if both parties are of age, a beer, in an attempt to rustle up votes.
"You play the game," sophomore Joey Hentzler said, "but the game only goes so far."
In the end, each of the KU students' resolutions passed, and two passed unanimously with all 30 "nations" present signing on. That almost never happens, Soberon said.
Their resolutions ranged from a proposal for a smartphone app used to report corruption to ideas to support indigenous women who fall victim to violence.
Fifth-year senior Gena Pollack served as KU's lead delegate, in her second year taking part in the MOAS exercise. She was picked for a small group that worked to solve the U.S.-Venezuela crisis, working out a deal for Venezuela to return the U.S. plane and its crew in return for support in its bid for the United Nations Security Council.
"You really have to think on your feet, because you really are working with some of the most brilliant minds of our generation," Pollack said.
And Pollack did that phenomenally, Hernandez said, with a knowledge of the nations involved and their past relations and treaties so deep he called her "the next Wikipedia."
"She knew everything about everything," said Hernandez, who is working as an intern for the real OAS in Washington as he finishes his Latin American studies master's program. He said he was worried this semester when he first looked at the KU squad's list and saw only undergraduates, as young as freshmen, but they showed the knowledge and ability of much older students. And most of them were bilingual, which helped when talking with the many Latin American students there.
The students who attended, several of whom hope for careers in law, policy or diplomacy, said this was a unique chance to put into practice what they've learned. And while fighting for votes meant sometimes stepping on some toes, Hentzler said, they made some faraway friends whom they'd never have met otherwise.
"There was this sense of community because we were from the same hemisphere," Hentzler said.
Copyright 2018 The Lawrence Journal-World. All rights reserved. This material may not be published, broadcast, rewritten or redistributed. We strive to uphold our values for every story published.