A stable level of state funding will allow Kansas University to continue its efforts to improve itself, Gov. Sam Brownback said Tuesday during a visit to KU to defend his proposed budget for higher education.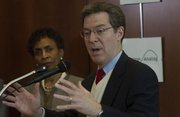 On the second day of a tour of Kansas Board of Regents institutions, Brownback praised KU's leaders after meeting with them at KU's Bioscience and Technology Business Center on the West Campus. He praised the Kansas Legislature, too, even as he spoke to support a flat budget for higher education instead of the cuts proposed by state House and Senate leaders. But he said some new legislators may not be familiar with how the state's universities are funded — for instance, he said some have wondered why KU cannot handle a cut in state funding when it's in the midst of a campaign to raise $1.2 billion in private funding.
But the KU Endowment Association's fundraising isn't intended to replace state funding, Brownback said.
"They want this as an enhancement, not a replacement," Brownback said.
While Brownback has recommended continuation of the current level of funding for the next fiscal year, the House has proposed an across-the-board cut of 4 percent, or $29.2 million, while the Senate recommended a 2 percent cut. The House plan also contains a cap on salaries that KU officials say would hurt the university's ability to retain and recruit top-level faculty.
KU Chancellor Bernadette Gray-Little, along with other KU officials, met with Brownback Tuesday afternoon. She echoed his words about the Endowment's "Far Above" campaign, saying those private funds help pay for things like scholarships, distinguished professorships for accomplished researchers and new buildings, while state funds largely help fund KU's educational mission.
"My view is that if it is seen as a replacement for state funding, it undercuts the whole fundraising effort," Gray-Little said. The point of the fundraising, she said, is for KU to improve its standing. But if state funding is reduced, she said, it will hurt that effort.
Republican leaders in the Legislature have said that KU and other universities should be held accountable for years' worth of rising tuition. And Democrats have criticized Brownback's accompanying push to make the 6.3 percent state sales tax permanent, saying that it amounts to a cover for the income-tax cuts he signed into law last year.
But Brownback, whose budget also provides $10 million over two years for a new education building at the KU Medical Center, said state support would be important for efforts to produce more doctors and engineers for the state in the future. And, he said, he believed that higher education would likely be a target of legislators' questions regardless of the state's budget situation.
Copyright 2018 The Lawrence Journal-World. All rights reserved. This material may not be published, broadcast, rewritten or redistributed. We strive to uphold our values for every story published.