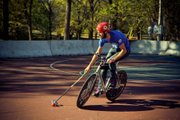 While catching up on spring cleaning, don't forget to dust off the old bike. Also, it might be a good idea to take it out for a spin. After all, swimsuit season is nigh.
But riding a bike aimlessly around town can get old fast. I would suggest riding to Edgewood Park, 1245 E. 15th St., and joining the Scary Larry members in a competitive game of bike polo.
Getting started
Josh Hoffhines, a member of Scary Larry Kansas Bike Polo, said that all you need to get started is a bike, and the only skill you need is the ability to ride. Toe-covered shoes, pads and a helmet are also important.
The bike polo club is easy to approach during their meetings, which are every Sunday, Tuesday and Thursday for about three hours starting at 7 p.m.
Everyone is welcome to join in on a few games.
Lessons and gear, such as mallets and balls, can be provided to beginners.

Bike polo is a workout, and it's not too difficult to get into. The game is a lot like traditional polo, but bikes are substituted for horses and the field is a basketball court.
The club typically plays numerous three-on-three games, which last about eight minutes each.
Cost
You will need a bike, and damage to the bike during a game is possible. You will also want a helmet and pads.
If you fall in love with the sport, you can join Scary Larry for $10 a month.
The club periodically takes trips to play in tournaments around the area. Members also have cookouts during some of the meetings, and they are starting to plan other social activities.
Being a member also gets you a discount at Fixcraft, which sells bike polo accessories including mallets and wheel covers.
Where to go
Scary Larry meets at Edgewood Park, 1245 E. 15th St. at 7 p.m. on Sundays, Tuesdays and Thursdays, rain or shine. It is free to play, and the friendly members are helpful to newcomers.
Copyright 2018 The Lawrence Journal-World. All rights reserved. This material may not be published, broadcast, rewritten or redistributed. We strive to uphold our values for every story published.