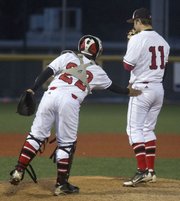 After the Lawrence High baseball team's second straight loss at the River City Baseball Festival, coach Brad Stoll tried his best not to consider the ifs, ands or buts of a 4-0 loss to Lee's Summit West, Mo., Friday night at LHS.
However, the Titans' offense only produced four hits against LHS starter Brandon Bell and reliever Shane Willoughby, so it was difficult not to think back on West's three-run fifth.
First, Drew Anderson drew a one-out walk and stole second base. Titans leadoff hitter Logan Geha sent a grounder toward shortstop Willoughby, whose throw to first didn't stay in first baseman Jacob Seratte's glove. That not only negated a possible second out, but allowed Anderson to move over to third.
Next, Tanner Martin rocketed a line drive off Bell's left shin. Remarkably, Bell found the ball next to the mound and threw to first for the out as Anderson scored the first run.
"We catch a ball," Stoll said, hypothetically, "and then he takes one off the shin, and we're out of there. But we don't catch a ball, run scores."
All of that allowed Monte Harrison to come up with Geha on second, and the junior smoked a ground-rule double over the head of LHS center fielder Kieran Severa to plate a second run.
To make things worse for Lawrence (8-4), Alex Lange reached first on a strikeout, and the ball eventually was thrown away into the outfield. Harrison scored to put the Titans (12-3) up three runs before Bell forced Ben Peterson into an inning-ending groundout.
"Bell competed well," Stoll said after the junior right-hander gave up three hits and four walks in 51⁄3 innings. "He's done that before. He's 5-0 coming into tonight, and he's beat some really good teams. He just throws."
In the meantime, Lawrence's offense never clicked. West right-hander Lange gave up a two-out single to CJ Stuever in the bottom of the third, then retired eight of the next 10 batters before Willoughby's leadoff single in the seventh gave the Lions their second and final hit of the game.
Stuever said Lange (seven innings, eight strikeouts, two walks) kept Lawrence hitters out of rhythm with his breaking ball.
"It's always tough when a pitcher can command more than just a fastball," Stuever said, "and he was up there dealing."
The Lions have just five hits in two festival losses the past two days. As bad as their 20-1 loss to Creighton Prep, Neb., was the day before, Stoll said Friday's loss irritated them for different reasons.
"It's frustrating because you feel like you have a good team, and you feel like you can beat them, and you don't," the coach said.
Willoughby threw 12⁄3 innings of relief and struck out three. West's final run scored in the top of the seventh, courtesy of another LHS error.
The Lions, Stuever insisted, will stay positive heading into today's 6 p.m. game against Maize at Hoglund Ballpark.
"That's just how baseball is," the senior second baseman said. "We start off 8-2, and if you start thinking you're good, it's gonna bite you."
Lee's Summit West, Mo. 000 030 1 — 4 4 3
Lawrence 000 000 0 — 0 2 3
W — Alex Lange. L — Brandon Bell (5-1).
2B — Monte Harrison, Lee's Summit West.
Lawrence highlights — CJ Stuever, 1-for-2, BB; Shane WIlloughby, 1-for-3.
Copyright 2018 The Lawrence Journal-World. All rights reserved. This material may not be published, broadcast, rewritten or redistributed. We strive to uphold our values for every story published.