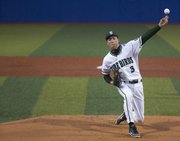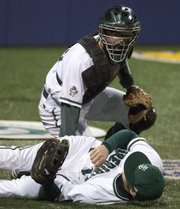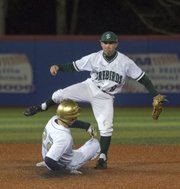 Free State High's baseball players would have liked to help starting pitcher Jacob Caldwell earn a complete game Thursday night. They would've preferred to open the River City Baseball Festival by allowing just one run at Hoglund Ballpark against Topeka Hayden, too.
Neither happened, and the failures were enough to make the Firebirds, though still unbeaten, feel less than ecstatic about a 9-6 victory.
Marred by a five-run top of the seventh by the Wildcats (7-4) that included back-to-back, two-out pop-ups in the shallow outfield falling safely to the turf between FSHS defenders, the victory lost its luster.
"We had a little bit of a circus going on there in the seventh inning," Free State coach Mike Hill said, "and it was disappointing."
The Firebirds (10-0) were an out away from an eight-run victory before the run-scoring bloopers put two more hits and four more runs on what had been an attractive stat line for senior right-hander Caldwell — four hits, eight strikeouts, five walks in 62⁄3 innings prior to the blunders.
After a brief appearance by reliever Tripp Wright, Hayden cut the FSHS lead to three before closer Sam Hearnen retired the only batter he faced for a save.
Caldwell said the whole team felt awful afterward because FSHS had played so well up to the last-out struggles.
"It's frustrating, but I trust my middle infielders and outfielders more than anything," Caldwell said, "and I know they won't make that mistake again."
Free State sophomore second baseman Cooper Karlin agreed.
"It left a little sour taste in our mouth just because we're normally not like that," Karlin said. "That's not Free State baseball."
Fortunately for the Firebirds, Karlin went 3-for-4 with four RBIs and drove in two critical runs in the bottom of the sixth with a single to center field. Self-described as 5-foot-6 "on a good day" and weighing "140-ish" pounds, the small middle infielder burned Hayden for an RBI triple in the first, too.
Hill said Karlin's stature can work to his advantage.
"You see a little guy in the two-hole coming up there, and you don't think you're gonna get what you wind up getting sometimes," the coach said.
Karlin's bases-loaded single in the sixth scored Zach Bickling and Joel Spain. Lee McMahon put Free State ahead, 9-1, by driving in Joe Dineen with a sacrifice fly to right field.
Who knew those three runs would be so useful in what looked like a blowout?
"It really paid off," Karlin said of the sixth. "We needed those runs. Somehow in the last inning, we didn't play like we normally do."
FSHS will play host to Rogers, Ark., at 2:30 p.m. today.
Topeka Hayden 000 100 5 — 6 8 0
Free State 311 103 x — 9 11 1
W — Jacob Caldwell (1-0). L — Jacob Tetuan. S — Sam Hearnen.
2B — Gage Stevens, Tanner Triggs, Jacob Head, Hayden; Joe Dineen, Cameron Pope (2), Free State. 3B — Cooper Karlin, Free State.
Free State highlights — Karlin, 3-for-4, 4 RBI, R; Dineen, 2-for-2, 3 Rs; Pope, 2-for-3, 2 RBI.
Copyright 2018 The Lawrence Journal-World. All rights reserved. This material may not be published, broadcast, rewritten or redistributed. We strive to uphold our values for every story published.