If you've ever been through a rough romantic breakup — and who hasn't? — Josh Ritter feels your pain. And he wants to share his.
The singer-songwriter's new album, "The Beast in Its Tracks," deals with the disintegration of Ritter's brief marriage to singer Dawn Landes, and like a lot of people who've been jilted, Ritter is bitter. Quite bitter.
"I knew that you had been untrue/ I didn't know how but I knew," Ritter sings in "Nightmares." And: "There are times I cannot speak your name for the catching in my throat/ There are things I will not sing for the sting of sour notes" ("New Lover"). And: "She went away and she took all her love
/And I could not believe how little there was" ("Hopeful").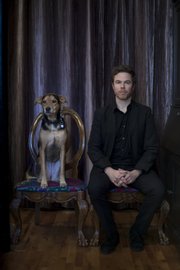 Lawrence connection
Josh Ritter may be from Idaho, but he's got a soft spot for Lawrence.
Indeed, he may be the most notable, if not the only, musician to name a song, "Lawrence, KS." It appears on his second album, 2000's "Golden Age of Radio," and while it's not directly about Lawrence, it evokes a road trip that brought him through here while driving his brother to college.
"I don't have a Lawrence connection except for that song," he said, but "I've had all kinds of great experiences there," including once getting hopelessly lost while out for a run during a visit. He first played Lawrence with Joan Baez in 2003, and tries to make it back here on every tour. "I come through as often as I can," Ritter says.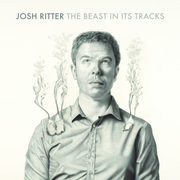 Oh, and the cover of the album? A sad-looking portrait of Ritter — with flames licking from his shirt. Whoa. He's not just carrying a torch: "I'll keep a bonfire for you," he sings.
Mixed emotions
Yep, this was a bad breakup. But Ritter, who will play at Liberty Hall on Sunday night, is quick to say, "I didn't want it to be a breakup record."
He's too smart a songwriter for that. After a half-dozen very good albums over the past 14 years — plus a couple of EPs and live collections — the 36-year-old Idaho native was savvy enough to try to make something from his bad experience that would be more than just a bunch of angry songs.
If you go
Josh Ritter will be performing with special guest Martin Sexton at 8 p.m. Sunday at Liberty Hall, 644 Massachusetts St. Tickets are $25-$29 and are available at the Liberty Hall box office, ticketing outlets and pipelineticketing.com.
Instead, "The Beast in Its Tracks" explores that weird roller coaster of romance gone bad, when emotions ricochet through something resembling Kubler-Ross' five stages of grief, including anger, offhand dismissal, attempts at reconciliation, curiosity about the ex's current status, one-upsmanship over finding a new lover, and finally moving on with life and love.
"I initially started writing…during wintertime," Ritter says in a phone interview from Brooklyn, N.Y., where he lives. "I was mad as hell, and I was writing songs that were mad as hell. It was wintertime, and it was unrelentingly dark."
So were many of the songs. But then the darkness lifted, in part because someone new came into his life.
"Suddenly those songs I'd initially been writing (were songs) that I had no relationship to," he says.
The songs evolved into something more hopeful.
"I wanted to write songs about the new way I felt, so I did," he says. In many of the songs, the emotions clash within the same lyric — he's alternately bitter about his old love and hopeful about the new.
"What I was really trying to describe was my true emotions, which were really mixed," he says. "Writing a mixed emotion is hard."
Getting personal
In the end, in true Kubler-Ross fashion, Ritter finds acceptance, and even wishes Landes — who hasn't weighed in with her opinion of his version of their story — a happy future. The album's best song, "Joy to You Baby," is a fond send-off:
"Joy to the city/
Joy to the streets
/
Joy to you baby
/
Wherever you sleep tonight"
"It really surprised me, that song," Ritter says. "Lines came out of that that I didn't know where they came from… I really feel that a record like this really needs songs like that. It really needs humanity to balance the anger."
Without question, "The Beast in Its Tracks" is different from Ritter's previous music. He's never written songs nearly this personal. Often compared to storytelling songwriters such as Bob Dylan, John Prine and Paul Simon, Ritter has generally trafficked in allegories, vivid characters, metaphors and tall tales. Trains, ships, wartime and nature figured heavily in his clever lyrics. About all you could really learn about him from his songs was that he was brainy and literate.
So was it hard for him to open himself up to the world this time around?
"I'd never really looked at my own personal, real feelings about something so critical, like a bright light," he says. The feelings "were so strong that it was easy to write about. So it was actually easier."
Also easy, oddly enough, is playing the new songs live, even though they seem so wrenching.
"Onstage, it's almost like your thinking self goes to sleep," he says. "For that reason, songs that are 10 years old can come up and bite you, and you feel some emotion out of them." With these songs, however, "These are great… they're very, very fun to play because they're so different for me."
Ritter the writer
Ritter's talents aren't just musical. He's also a pretty good novelist, whose first book, "Bright's Passage," a metaphor-rich tale about a World War I soldier who's followed home from the war by a guardian angel, came out two years ago. It received a favorable review from no less than Stephen King in The New York Times.
"This is the work of a gifted novelist, but the size of that gift has yet to be determined," King wrote.
Ritter says for now he's focused on his music, but he's also working on another novel. You can hear the excitement in his voice when he talks about it.
"It's going to be fun," he says, without offering any other details.
In the meantime, he's working through that breakup, on record and onstage.
"This was something that happened to me, and for one time in my life, I could see myself," he says. "It was like a flashbulb going off inside me all the time. You can see your emotions and all your feelings. … To know you want to forget somebody, but you just can't."
Copyright 2018 The Lawrence Journal-World. All rights reserved. This material may not be published, broadcast, rewritten or redistributed. We strive to uphold our values for every story published.