Hallie Velez, like many in Lawrence watching the aftermath of Monday's bombing in Boston, felt the urge to do something to help. There seemed little anyone could do from this distance, but sometimes a kind word goes a long way.
Velez, who lives in Lawrence and works for the Social Security Administration in Kansas City, has never been to Boston and doesn't know anyone there. But she found a connection in a Google Doc where Boston-area residents advertised their homes as safe places to stay for those affected by the bombing. The spreadsheet was up within hours of the attack, with more than 100 people offering shelter on it by Wednesday. The trust and kindness of the effort moved Velez to send thank-you notes to the good citizens, which, she said, they appreciated.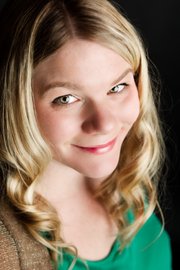 "I thought, 'I can't do anything from Lawrence,'" Velez said. "But I'm a big fan of thank-you notes. They were taking a big risk doing that, putting all of their personal information out there. I saw single women, couples with kids, trusting that anyone who responded would be kindhearted and have good intentions."
So, Velez sent emails to 10 of the people posting on the spreadsheet. Her message came to the attention of The Atlantic magazine a short time later, and the magazine reprinted parts of it.
"My name is Hallie, I live in Kansas. I've never been to Boston and I don't need a place to stay but I found your names on the 'I have a place to offer' spreadsheet and I wanted to say thank you," the message read. "I was overwhelmed this morning when I read about the small and large acts of kindness being given all over your city. I just wanted to send a few small notes to let you and your fellow citizens know that the word is out. Boston is bigger than this bombing, bigger than this tragedy. I want to spread your kindness a little wider. Thank you for opening your hearts and your homes to people who are far away from home and frightened. Thank you for trusting people to keep you safe when you do so. It's people like you that keep the world moving in the right direction. Keeping all of you in my thoughts."
By Wednesday, Velez had heard back from most of the people she contacted, thanking her for her thank-you note.
"That made me feel good, it made them feel good, and it was just a circle of people being kind," Velez said.
One Boston woman told Velez she'd posted on the spreadsheet because she wanted to show her children that there were always more people helping the victims of violence than there are people who want to do harm. Another man wrote Velez back to say he'd posted to offer a safe place to women and LGBT people who found themselves adrift in an unfamiliar city.
Velez said she's always written impulsive thank-you notes, once sending an anonymous letter of thanks to a neighbor for painting his house.
She was moved to write in this instance, she said, partly because she is expecting a child and has wondered what kind of world she's bringing her daughter into.
"I had been thinking over the weekend about what it means to be optimistic, and whether that's naive," she said. And, as troubling as the bombing was, she said, the overwhelming positive response from people in Boston and elsewhere is reassuring. "I'd rather something positive comes out of it. I hope it keeps going."
Velez isn't alone in trying to make a difference despite the distance. Lawrence residents organized a benefit run in South Park Tuesday evening, and Kansas University students have started a fundraising effort to support the victims of the bombing.
Copyright 2018 The Lawrence Journal-World. All rights reserved. This material may not be published, broadcast, rewritten or redistributed. We strive to uphold our values for every story published.